Dates

Jun 01, 1927 Nov 23, 2022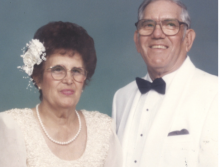 Tony E. Flores, 95, of San Angelo passed away Wednesday, November 23, 2022.

Rosary will be said at 10:30 Friday November 25, 2022 at St. Mary's Catholic Church with Mass starting at 11:00 AM with Father Joey Faylona, pastor, officiating. Graveside services will be 2:00 PM Wednesday, November 30, 2022 in Calvary Catholic Cemetery under the direction of Robert Massie Funeral Home.  

Mr. Flores was born on June 1, 1927 in Rotan to Juan and Maria Enriquez Flores. Tony graduated from San Angelo High School. At the age of 15, he went to work for L Krist Tailors to learn the business. When he turned 17 he joined the U. S. Navy serving on a ship in World War II. He was the tailor sewing and altering uniforms. Tony was honorably discharged. Tony married the love of his life Eva Ortega on July 5, 1947. Their love will last an eternity and so on. She passed away on July 28, 2017. After discharge he went back to work with L. Krist Tailors for 10 years. In his will, Mr. Krist left Tony all his sewing tools and machinery. Tony worked for Mr. Golightly Men's Store as a tailor for six years before opening Tony's Tailor Shop. He made custom clothing including suits, shirts, and pants for over 60 years, retiring in 2014. Tony was a loving and caring husband and father. He loved his family and took care of many throughout his life. He had a very selfless and loving heart. His smile could light up a room. He enjoyed playing golf and working on his rental properties. Tony was a dedicated member of St. Mary's church, a past president of the San Angelo Downtown Lions Club, and the San Angelo Knight of Columbus.

He is survived by a daughter, Sylvia Flores and George Garcia of San Angelo; a son, Fernando Rodriguez and wife Lorina of San Angelo; six grandchildren, Athena Mathew and husband Sanjay of South Padre Island, George Anthony Garcia and wife Nicole of Yorba Linda, California, Myda Maria Cassel and husband Doug of New Braunfels, Crystal Garcia and Chasere of Lubbock, and Fernando Isaiah Rodriguez and Erica Garcia and husband Eddie all of San Angelo; nine great-grandchildren, Philip, Sasha, Ayesha, Alex, Antonio, Sofia, Eva, Eli, Gustavo, Jason, Max, and Zander; and two great-great-grandchildren Sylver and Scarlet.

Special thanks to the following: Maggie Zapata Smith (caregiver), Cynthia Garcia, Robert Massie Funeral Home, Gentiva Home Health and Bouquets Unique Florist for all the care and help provided.
ROSARY
Friday
November 25, 2022
10:30 AM 
St. Mary's Catholic Church 
7 W. Ave. N
San Angelo, TX 76903
---
MASS
Friday
November 25, 2022
11:00 AM to 12:00 PM 
St. Mary's Catholic Church 
7 W. Ave. N
San Angelo, TX 76903
---
GRAVESIDE SERVICE
Wednesday
November 30, 2022
2:00 PM 
Calvary Cemetery, San Angelo 
Write Your Tribute