Dates

Jan 03, 1925 Nov 16, 2022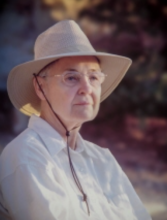 Mariana Catherine (Mollie) Hart Clemens left this realm for her rendezvous with beloved husband "Baba" and other family members on November 16, 2022. She accomplished a good life well lived for almost 98 years and left this world a better place because of her efforts.
Mollie was born at Fort Sam Houston in San Antonio, Texas, on January 3, 1925. She was the daughter of Mariana Catherine Franklin Hart and Brig. Gen. William Lee Hart, MD. She grew up in San Antonio and various military installations where her father was the commanding medical officer, including Omaha, Nebraska, and the Philippines. Her two years in the Philippines left a life-long impression, and she proudly proclaimed herself a Filipino—at least in spirit. The experience also meant she was fluent in Spanish.
She attended St. Mary's Hall in San Antonio, graduating when she was 16. She earned her bachelor's degree from the University of Texas at Austin, where she was a member of Pi Beta Phi sorority. Through family friends, she met and fell in love with Augustus Ducas Clemens IV, then serving in the Army during and after World War II.
A.D. "Gus" Clemens and Mollie married on August 25, 1947, in Dallas, where her father served as dean of Southwestern Medical School. That union produced five children: Augustus Ducas Clemens V [Miki Ross (d 2019), Cindy Reed]; Mariana Catherine Clemens Alred [Clayton Alred, PhD], Anne Elizabeth Clemens Mills, Thomas Franklin Clemens [Vicki Clemens], and Mary Louise Clemens [Bruce Tyroler]. Each child produced two grandchildren: Augustus Ducas Clemens VI and Sarah Ross Clemens Cole; Steven Clay Alred, MD and Mariana Catherine (Mollie) Alred; Ryan Clifton Mills and Julia Mills Anderson; Thomas Franklin Clemens Jr. and Catherine Nicole Clemens; Samuel Augustus Tyroler and Lillian Grace Tyroler; and eight great grandchildren.
The Clemens family moved to San Angelo in 1953 and purchased a home in Bryant Park, her residence when she passed. Mollie was active in the Catholic Church and the civic community. She particularly embraced her Catholic faith as a service to our Lord. She was sacristan for daily Mass and funerals for more than 30 years at Holy Angels Catholic Church.
Mollie's enthusiasm for life and new challenges flourished for almost 98 years. She always said her greatest accomplishment was her children, all of whom she supported and loved unconditionally.
Her adventures into photography—she created a state-of-the-art darkroom on the back porch—guided a son and a grandson to pursue professional careers in photography. She was a master quilter with absolute precision. She converted the garage into a crafts room and produced quilts that are treasured by family and friends. During the last decade of her life, she participated in sewing for charities.
She was a voracious reader and an excellent editor. She improved her son's books and other written works. She enjoyed cooking and baking, and—because of her encouragement and support—one daughter created the highest rated bakery in New York City. One daughter became an elementary school administrator, another a high school guidance counselor and Licensed Professional Counselor-Supervisor.
Mollie identified herself as a "professional volunteer." She chaired the Concho Valley Council of Government Criminal Advisory Committee for 40 years and was a board member for the San Angelo Day Nursery/San Angelo Early Childhood Center for more than 40 years. She was an active member of the Junior League of San Angelo, and did volunteer work for Angelo Catholic School, Meals on Wheels, and other charities and community service organizations.
There will be a rosary Thursday, December 1 at 6 p.m. at Holy Angels and a memorial service at 10 a.m. Friday, December 2 at Holy Angels. Mollie joined her husband in donating their bodies for use at Texas Tech University Medical School. Internment in the Holy Angels Columbarium with her husband will occur when her cremains are returned.
Please consider donations in her memory to Holy Angels Church, Hospice of San Angelo, the San Angelo Early Childhood Center, Meals for the Elderly, or the charity of your choice.
Rosary
Thursday, December 01, 2022
6:00PM
Holy Angels Catholic Church 
2309 A & M 
San Angelo, TX 76904
Memorial Service
Friday, December 02, 2022
10:00AM
Holy Angels Catholic Church 
2309 A & M 
San Angelo, TX 76904
Final Resting Place
Holy Angels Catholic Church Columbarium 
2309 S. A&M Ave. 
San Angelo, TX 76904
Write Your Tribute