Dates

Jan 01, 1964 Sep 29, 2022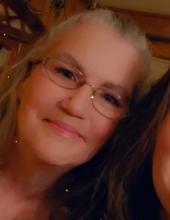 Dreda Renee "Mummy" Jacoby Carpenter, 58, of Eola passed peacefully with her family by her bedside on Thursday, September 29, 2022.

Mrs. Carpenter was born on Jan 1, 1964 In San Angelo to James and Dreda Jacoby. She attended Wall High School, graduating in the class of 1983. Shortly thereafter marring the love of her life Joseph Carpenter of Oklahoma.

She worked in the oilfield as a secretary for many years before becoming a stay-at-home mom to daughter Amanda Carpenter Wahmann. In 2002 Renee moved to Eola to care for her aging parents. She later became a nurse's assistant finishing her career at San Angelo Nursing and Rehab. She was forced to stop working when she was diagnosed with Stage  four lung and liver cancer.

Renee had many hobbies including arts and crafts, baking and cooking, the Eola VFD Ladies Auxiliary, spending time with family, traveling, fishing, and camping. She also enjoyed spending time with her special friends, Linda Escamilla of Eola, Sandee Farek of Refugio, Dana Routh of San Angelo and her sister-in-law, Dorothy Sutherland of Crane. She also loved spending time worshiping with her church family at Eola Baptist Church.

She is preceded in death by her husband of 35 years, Joseph Carpenter; her parents, James and Dreda Jacoby; and son-in-law, Jonathan Wahmann.

She is survived by her loving daughter, Amanda Carpenter Wahmann of Eola, various brothers and sisters-in-law; Several cousins, nieces, and nephews; special kiddos, Sarahina Corder of San Angelo, Sunshine Gunter of Tennessee, Amanda Brinkley of Garden City, Cassidy Serna of Gainsville; special grandson, Braxton Perkins of San Angelo; her fur grand kitty of 20 years, Baby girl Kitty Wahmann of Eola.

A special thanks goes to Shannon Medical Center and Dr. Cummings and staff, Kindred Hospice of San Angelo, Ann Crow, Sarai Cox, Stephanie Gesch and also Dr. Forlano.

In lieu of flowers please donate to Kindred Hospice of San Angelo, 116 West Concho, San Angelo, Tx 76903 or the American Cancer Society, P.O. Box 6704, Hagerstown, MD 21741.

Memorial services will be at 10:00 AM Saturday, October 8, 2022 at Eola Baptist Church with Pastor Toby Irwin, pastor, officiating. Arrangements are under the direction of Robert Massie Funeral Home.
Write Your Tribute