Dates

Feb 05, 1953 Sep 27, 2022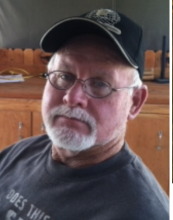 Rodnie Clay Johnson, 69, of San Angelo, TX, passed away peacefully on September 27, 2022. Rodnie was born on February 5, 1953, in Odessa, TX, to Ben Henry Johnson and Jennive (Hopper) Johnson.
Rodnie married the love of his life Brenda on January 18, 1974, in Odessa, TX. He spent 41 years at the Goodyear proving grounds. He loved hunting and Barbequing. He was active in the Texas youth hunting program.
He is survived by his loving wife at 48 years, Brenda Johnson, his children, Tamara, and Casey, his grandchildren, Banee, and Ashley, his mother, Jennive Hopper, his sister, Becky Perkine and husband Jim, brother, Kenny Johnson, brother-in-law, Bobby Davis and wife Nina, and numerous nieces, nephews, and cousins. He is preceded in death by his father, Ben Johnson.
A memorial service will be held at a later date.
A very special thanks to each and every person for all their love and support.
Write Your Tribute