Dates

Aug 03, 1929 Sep 26, 2022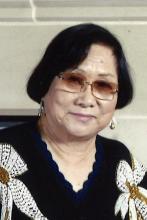 Mitsuko "Miki" Semanski, 93, passed away Monday, September 26, 2022, in San Angelo.

Public viewing will be from 1:00 PM until 8:00 PM with the Rosary being prayed at 6:00 PM Sunday, October 2, 2022, at Robert Massie Riverside Chapel. Mass will be at 10:00 AM Monday, October 3, 2022, at St. Margaret of Scotland Catholic Church with Ft. Josh Gray, officiating. Burial will follow at Calvary Catholic Cemetery under the direction of Robert Massie Funeral Home.

Mrs. Semanski was born August 3, 1929 in Fukuoka, Japan. Miki married Joseph "Joe" Semanski on August 21, 1959 in Fukuoka, Japan. He preceded her in death on January 27, 2015. Miki has been a resident of San Angelo since 1972. She was a homemaker. MIki was a member of the St. Margaret of Scotland Catholic Church, and she attended at Goodfellow Taylor Chapel. Miki loved playing Bingo and shopping. She enjoyed sewing and crocheting. She loved her cats.

Survivors include two nieces, Vivian Colomo and husband Louie, and Sharon Desmond both of California; and special friends, Janie and Sergio Reyes, Alicia and Higinio Fuentes, and Rowena Meadows all of San Angelo. Miki was preceded in death by her only son, Jessie J. Semanski.
Write Your Tribute