Dates

Oct 06, 1940 Sep 26, 2022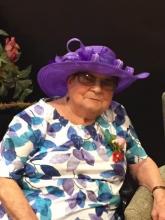 Mary "Nene" Subia, 81, of Big Lake passed away on Monday, September 26, 2022.

Viewing will be from 10:00 AM - 8:00 PM on Thursday, September 29, 2022 at Robert Massie Riverside Chapel with the Rosary starting at 6:00 PM. Mass will be said at 10:00 AM Friday September 30, 2022 at St. Margaret of Cortana Catholic Church with Father Balachandra Nagipogu, officiating. Burial will follow in Glen Rest Cemetery under the direction of Robert Massie Funeral Home.

Mrs. Subia was born on October 6, 1940 in Miles to Jesus M. Flores and Guadalupe O. Flores and grew up in Mertzon. She fell in love and married Santana R. Subia Sr. Mary and Santana went on to have four children, Gilbert, Eddie, Dianna and Santana Jr. Mary worked at the Reagan County Care Center for many years and later retired from there. Santana passed away on October 30, 1994.

She loved caring for all her grandchildren and great grandchildren. She spoiled them to no end. She made the best papitas fritas, Texas trash, pineapple cherry ham, and holiday candy for her family.

In 2008, she chose to make Reagan County Care Center her home as she did not want to burden anyone. During her residence at the Care Center, she was named Queen "La Reina" of the Care Center. Mary enjoyed playing bingo, loteria, and shopping at the country store. She passed her time by nurturing the other residents. She liked sitting on the porch visiting with her friends and smoking. Her favorite desserts were carrot cake and Little Debbie Zebra Cakes. She was fond of her extended family at the Care Center.

Mary was a loving mother, grandmother, great grandmother, great-great grandmother. She loved her friends and family dearly and will be greatly missed.

She was preceded in death by her parents; three children, Gilbert Subia, Santana R. Subia, Jr. and Dianna Acosta; and three siblings, Elias "Caliche" Flores, Ramon Flores, and Perfecta F. Aguero.

Survivors include her son, Eddie Subia and wife Dora of Big Lake; eight siblings, Juan Flores, Sr. and wife Ramona, Delores Martinez, Vicente Flores and wife Alicia all of Mertzon, Olivia Rodriguez and husband Alex of San Angelo, Alberto "Tico" Flores, Mike Flores both of Mertzon, Jessica Flores of San Angelo, Jesus M. Flores, Jr and wife Mickey of Iraan, Lily Flores (Elias) of Mertzon; a special daughter-in-law, Kathy Dittman (Santana, Jr.) of Big Lake; 11 grandchildren, Wendy Holland and husband Randy of Big Lake, Chris Subia and wife Jessica of Big Lake, Michael Subia and wife Melissa of San Antonio, Christy Askenette and husband Roscoe of Odessa, Nick Subia of Big Lake, Sara Subia of Midland, Robie Subia and wife Alisha of San Angelo, Erica Subia of Big Lake, Michelle Vasquez of Converse, Anthony Acosta of Andrews, and Peter John Acosta of Lubbock; 27 great grandchildren; 3 great-great granddaughters; and numerous nieces and nephews.

The family appreciates the care given to her by the staff at the Care Center and Hospice of San Angelo.
PUBLIC VIEWING
Thursday
September 29, 2022
10:00 AM to 8:00 PM
Robert Massie Riverside Chapel
402 Rio Concho Dr.
San Angelo, TX 76903
---
ROSARY
Thursday
September 29, 2022
6:00 PM
Robert Massie Riverside Chapel
402 Rio Concho Dr.
San Angelo, TX 76903
---
MASS
Friday
September 30, 2022
10:00 AM to 11:00 AM
St. Margaret of Cortana Catholic Church
Write Your Tribute