Dates

Sep 16, 1963 Sep 26, 2022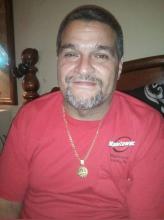 Jerry "Chito" Gonzales, 59, of San Angelo, passed away on Monday, September 26, 2022.

Viewing will be from 10:00 AM - 8:00 PM on Monday, October 3, 2022 at Robert Massie Funeral Home. Graveside services will be at 10:00 AM Tuesday, October 4, 2022 in Calvary Cemetery with Dr. R. A. Evans, Jr. pastor at Lakeview Bible Church officiating. Arrangements are under the direction of Robert Massie Funeral Home.

Mr. Gonzales was born September 16, 1963 in San Angelo. He worked in maintenance and loved every minute of it. He was preceded in death by his parents Adela and Ben. Jerry is survived by his wife, Lois Fuson; his five children, Jerry Gonzales Jr. with wife Amber, Tony Gonzales with wife Monique, Ernest Gonzales, Brenda Gonzales, and Terry Gonzales; 19 grandchildren; 1 great grandchild, Juan; and numerous other family members.
Write Your Tribute