Dates

Nov 04, 1946 Sep 24, 2022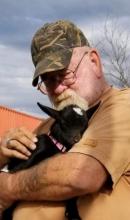 Joe Sabine, 75, passed away Saturday, September 24, 2022, at his home surrounded by his family in Robert Lee.

No services are scheduled at this time. Arrangements are under the direction of Robert Massie Funeral Home in San Angelo.

Mr. Sabine was born November 4, 1946 in Jacksonville, Florida where he was a 1964 graduate of Hillsboro High School. Joe retired from the US Air Force as a Captain after 24 years of service in 1989. Joe was a resident of Robert Lee since 2017 moving from San Angelo, where he was a resident since 1990. Joe was a member of the Combat Vets Motorcycle Association, Staked Plains Masonic Lodge #598 AF&AM, and Shriners' Consistory. Joe enjoyed woodworking in his younger years. After moving to Robert Lee Joe spent time caring for his animals.

Survivors include his wife, Sandra Sabine of the home; five children, Meredith Sabine and partner Billy Alexander of Norman, Oklahoma, Christina Allen and husband Clint of Montgomery County, Kim Crespo and husband Anthony of Abilene, Ruthy Walker and husband Brian of Weatherford, and Steven Sabine of Dallas; 12 grandchildren; six great grandchildren; and his brother in arms, Paul Alger of Shawnee, Oklahoma. Joe was preceded in death by his parents, Ted and Lucy Sabine.
Write Your Tribute