Dates

Apr 12, 1938 Sep 14, 2022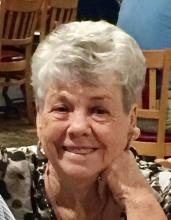 Ruby Augusta Louise Rose McDonald was joyously welcomed home by our Lord and Savior on September 14, 2022, at home in San Angelo, TX.  She was 84. Now she is dancing barefoot in the fields of heaven with her son Stephen and all of our family that went before her.

Ruby was born in Rowena, Texas, to Louis Otto and Ella Pfluger Rose on April 12, 1938.  She grew up on her family's cotton farm between Rowena and Ballinger with her parents and 6 siblings. She was not a stranger to hard work.  
 
Ruby graduated from Ballinger High School, Class of 1956. "Strong as nails, tough as bricks, we're the Class of '56" was their motto.  This is where she originally earned the nickname "Tuffy", while standing up for her older and younger siblings on the school bus.

She worked at GTE as a stenographer for about a year before she met the love of her life at the ODHS Hall in Rowena.  She flirted and danced her way into the heart of James Patrick "Pat" McDonald and they married on January 18, 1957. Who knew where this union between "spicy mouth Ruby and cool calm Pat" might lead.
 
The couple lived in San Angelo briefly, before moving to Fort Stockton, Texas, where they were blessed with the birth of their first child in 1958, Stephen Patrick. This is where Bill Hook earned top honors with Ruby for massaging her back during labor. Also, about the time that Mikey was tested with his mission to purchase a breast pump for Ruby. She was so loved. She was a wonderful mother, wife and homemaker. They had many fun times at Balmorhea State Park, swimming and fishing.  
 
This sweet little family of three moved back to San Angelo in 1960 where they welcomed their second child, Kathryn Ella, that same year.  They bought a little love shack on Parker Street that she turned into a beautiful home.  This is when Pat started a new job with Pool Company that evolved into family and friends that would last a lifetime.  
 
Ruby and Pat were instrumental in forming several dance clubs in San Angelo and they continued to waltz across Texas for 65 years, making friends wherever they went from Wall, to Ennis, to Hallettsville, to St. Lawrence and even Nebraska. They led the Grand March for a countless number of weddings and anniversary celebrations.  Annual vacations throughout their lives were spent mostly in the mountains of Creede, Colorado, camping and fishing.
 
The family moved to Perryton in 1964 where they stayed for two years.  They moved back to San Angelo and Pat was eventually able to talk Ruby into another addition to the family and to their home on Parker Street. The magical third child arrived in 1968, Kiva DeAun was the sparkle of sunshine that completed this perfect family.
 
Ruby continued to be the hostess with the mostest, entertaining and sharing her joy and laughter with all. That home was basecamp for numerous 42 and 84 domino games, skip-bo parties and the famous "doo-doo" on your neighbor card games.
 
Ruby did return to work briefly at the S&H Green Stamp store where she continued to make cherished friends.  She won the prize for best dessert at every annual Pool Company picnic.  She was an amazing seamstress, sewing so many of her children's outfits as they grew up.  Ruby worked so hard instilling the value of caring for all those in need, the elderly, the sick, and the grieving.  Before there was a "meals on wheels", SHE WAS!
 
This special woman filled her days with mowing "the Place", working in the garden, canning fresh salsa, making tamales, pickling more things than should probably ever be pickled, and hosting beautiful family gatherings, such as the infamous annual Easter Egg Hunt with the Grand Prize!!! She also played a pretty intense game of volleyball with the legendary "McDonald Rules". Nana Ruby was known for making a mean pot of beans at the family reunions, cooking anything the grandchildren requested and showing them NO MERCY when it came to playing a hot game of dominoes.
 
Ruby and Pat always filled their lives with fun and adventure, whether they were taking road trips all around the United States, up the west coast, the east coast, from Florida to California or right up the middle.  They cruised all around with family and friends, as well as taking trips to Germany, Cancun and Hawaii.  Lake Amistad fishing trips with ventures into old Mexico and family motorcycle outings, they always managed to make time for living life to the fullest. Pat even surprised her with a Yamaha motorcycle, disguised as her 35th birthday gift.
 
After several years in and out of the hospital and multiple rehab facilities, Ruby's long "Tuff" journey has come to a close here on this earth. I can only imagine the glorious celebration of a life well lived welcoming her to her heavenly home. What a dance party it must be!
 
Ruby was preceded in death by her son, Stephen Patrick, her parents, Ella Pfluger and Louis Rose, her siblings, Francis, J.C., Leona and Doris. 
She is survived by her loving husband of 65 years, James Patrick McDonald; her daughters, Kathy & Kiva; her 7 grandchildren James Weldon, Matthew Dean, Zachary Beck, Thomas Patrick, Jonathan Keith, Jada Kai, and Stephen Kash; and great-grandchildren Leah Rose, Luke Thomas, Quinn Evelyn, Walker Dean, Elizabeth Kay "Birdie", Louella Jean, Melrose Joe, Tobias James, Thomas Oliver, Lexi and Garrett; her sisters Gladine and Alice.  In addition to numerous nieces and nephews, much like daughters and sons, as well as cousins, that are more like siblings.  Ruby is also survived by a vast number of cherished friends. Ruby's grandsons and granddaughter will serve as pall bearers.
 
Viewing will be at Robert Massie Funeral Home on Friday, September 23, 2022 and the family will receive friends from 5:30 - 7:00pm. Graveside services will be 2:00pm Saturday, September 24, 2022, at the old historical Ben Ficklin Cemetery with the service conducted by "the bottom of the barrel", family attorney and nephew, William Patrick "Bill" Lane.  Fiddle played by longtime family friend, Harvey Wanier.
PUBLIC VIEWING
Friday
September 23, 2022
10:00 AM to 8:00 PM
Robert Massie Riverside Chapel
402 Rio Concho Dr.
San Angelo, TX 76903
---
FUNERAL SERVICE
Saturday
September 24, 2022
2:00 PM
Ben Ficklin Cemetery
5237 S Bryant Blvd
San Angelo, TX 76904
Write Your Tribute