Dates

Sep 11, 2022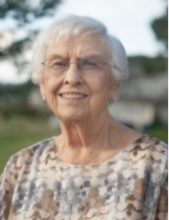 Berneice Rogers, 90 of Fuquay Varina, passed peacefully into the presence of Jesus on September 11, 2022 with her family at her side.
Berneice was born on September 17, 1931 in Kilgore, TX to the late Everette Johnson Harp and Johnnie Berneice West.
She served faithfully in ministry for 53 years with her late husband, Rev. Burl J. Rogers Sr. As pastors, evangelists & missionaries to Native American and First Nation peoples for the Assemblies of God. She was a gracious hostess and wonderful cook making every guest feel special in her home and could make a banquet out of simple food. Berneice was an excellent baker; her cakes, pies & cookies are legendary and she was always willing to share her recipes. She was a seamstress extraordinaire, sewing her own clothing as well as for family and friends. She loved to give handmade gifts and her teddy bears are loved all over the world. Berneice loved music and played piano, organ and to the embarrassment of her children, the accordion. Along with her family, she recorded several Southern Gospel albums. She taught her children to love Jesus and sing about him. Most of all she loved the Lord and never hesitated to show that love to others. She was a prayer warrior and had a long list of people she prayed for, by name, every day and declaring Psalm 91 over her family and friends. Berneice was truly the hands and feet of Jesus. She was currently a member at Church Alive Assemblies of God in Fuquay.
In addition to her parents, she is preceded in death by her husband, Rev. Burl Jerry Rogers Sr; Sisters, Patricia Connor, Roberta Ivory & Floretta Harp.
She is lovingly remembered by her son Burl Jerry Rogers, Jr, (Diane Carlile), grandchildren, Toby Tyler, Scott Rogers (Timber Prescott), Erica Rogers and great grandson, Samuel Schloss. Daughter, Debbie Rogers-Kay (Marshall Kay), grandson, Austin Kay. Berneice is survived by her brother, Everett Harp (Jerre). She was a "second Mom" to so many others.
A memorial service will be held on Saturday, September 24, 2022 at 1:00 PM with a light reception to follow from 2:00 PM to 4:00 PM. The Graveside Service will be 10:00 A.M., Saturday, October 1, 2022 at Pioneer Memorial Park in San Angelo, Texas.
In lieu of customary remembrances, memorial contributions may be donated to SAGU American Indian College 10020 North 15th Ave, Phoenix, Arizona. www.aicag.edu. Or any ministry to further the Gospel of Jesus Christ.
Family and friends may share condolences and sign the online register book at www.harper-funeralhome.com
Graveside
Saturday, October 01, 2022
10:00AM
Pioneer Memorial Park 
8009 Hwy 87 North 
San Angelo, TX 76901
Write Your Tribute