Dates

Sep 16, 1934 Aug 13, 2022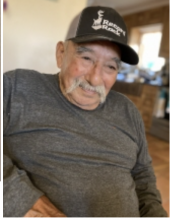 Cornelio Espinosa Fuentes, 87, of Sterling City went to be with the Lord on Saturday, August 13, 2022 in San Angelo.
Cornelio was born September 16, 1934, in Villa Union, Coahuila, Mexico to Ezekiel and Cresencia Espinosa Fuentes. Cornelio grew up in Villa Union and was one of 11 children. He was a hard worker from a very young age and spent most of his life working on ranches and also in the oil field as a rough neck. He was a very kind and caring brother, husband, father, grandfather and friend. Cornelio had a great sense of humor and devoted his life to raising his children and also other family members children when it was needed. He gave very freely of his time to others and was always willing to help anyone. In his spare time, his passion was working with animals, especially his chickens and goats. He also loved riding horses and breaking them. Cornelio was always up for a challenge and never backed down from anything he did in work or life.
After retirement, he mainly enjoyed being with his family, shelling his pecans and caring for his animals. His life and love will remain in our hearts forever and we will dearly miss him!
Cornelio was preceded in death by his parents, his wife Tomasa Fuentes, his two sons Cornelio Fuentes JR. and Tomas Mares Fuentes. Sister, Rosa Maria Fuentes; three sisters and five brothers. He is survived by his children, Gabriel Fuentes and his wife Misti, of Fair Oaks Ranch, Tx, Pablo Mata and his wife Sabrina, of Sterling City, TX and Araseli Ortiz, of Sterling City, TX; 5 Grandchildren, Megan Fuentes, Hayden Fuentes, Grabiela Fuentes, Vanessa Hurley, and her husband Dave, Leo Ortiz, Jr., and Angelica Ortiz; one sister, Maria Salinas, of Villa Union, Coahuila, MX; and numerous nieces and nephews, other family members and close friends.
The Funeral Service will be 3:00 P.M., Thursday, August 18, 2022, at Harper Funeral Home Chapel with Chaplain Andrew Helms officiating. Cornelio will be available for viewing Wednesday, August 17, 2022, at Harper Funeral Home from 8:00 A.M. – 7:00 P.M. 

Family and friends may share condolences and sign the online register book at 
www.harper-funeralhome.com.
Viewing
Wednesday, August 17, 2022
8:00AM - 7:00PM
Harper Funeral Home 
2606 Southland Boulevard 
San Angelo, TX 76904
Funeral Service
Thursday, August 18, 2022
3:00PM
Harper Funeral Home 
2606 Southland Boulevard 
San Angelo, TX 76904
Write Your Tribute