Dates

Jan 19, 1943 Aug 12, 2022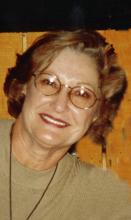 Billie Lee Masters, 79, formerly of Mertzon, passed away on Friday, August 12, 2022.
Graveside services will be 10:00 AM Tuesday, August 16, 2022 at Sherwood Cemetery near Mertzon.   Arrangements are under the direction of Robert Massie Funeral Home.
Mrs. Masters was born on January 19, 1943 in Tulsa, Oklahoma to Walter And Delpha Johnson Brooks. Billie Lee married Bobby Masters on June 10, 1961 in San Angelo. He passed away on March 2, 2008. She was a long time Postmaster in Mertzon, starting in 1978.  Her hobbies included fishing out of her small boat on Spring Creek and camping.  Billie also enjoyed family genealogy and history, especially Civil War history.  She loved most to be surrounded by family and friends.
She is survived by her daughter, Brenna Kratzer and husband Mark of Midland; a brother H. L. Brooks and wife Gina of Blackwell; 2 grandchildren, Scott Kratzer and wife Cara of San Angelo and Morgan Winkelmann and husband Tyler of Bellville; and two great-grandsons, Braxton and Brooks Kratzer.
Write Your Tribute