Dates

Feb 23, 1961 Aug 05, 2022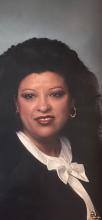 Barbara Aguilar, 61, of San Angelo passed away on Friday, August 5, 2022.

Public viewing will be from 10:00 AM - 8:00 PM Monday, August 8, 2022 at Robert Massie Riverside Chapel with the Rosary at 6:00 PM. Funeral Mass will be at 10:00 AM Tuesday, August 9, 2022 at St. Mary's Catholic Church with Father Joey Faylano, pastor, officiating. Burial will follow in Lawnhaven Memorial Gardens under the direction of Robert Massie Funeral Home.

Mrs. Aguilar was born on February 23, 1961 in Ballinger to Joe and Otilia Gutierrez. She graduated from San Angelo Central High School and from Angelo State University with a bachelor's in business administration. She then married Manuel Aguilar on September 24, 1994 in San Angelo. Barbara worked at Ethicon for 42 years in production and as a lab technician. She retired in 2022. Barbara enjoyed making stadium blankets for her friends, making bead jewelry, going to rodeos and traveling. She was a supporter of local sports teams, having season tickets to Rams and Belles sporting events. One of the amazing qualities she had was the ability to cope with her illness without letting anyone know how much pain she had, especially over the last few months. Barbara was a member of St. Peter's Catholic Church in Mertzon and served as secretary for the parish council. She enjoyed eating lunch with Father Joseph, friends, and her family.

Barbara is survived by her husband, Manuel of the home; her three children, Deserae Gomez of Abilene, Daniela Aguilar, and Dylan Aguilar, both of San Angelo; five siblings, Julian Martinez of San Angelo, Larry Gutierrez of Round Rock, Joe Gutierrez, JoAnn Sevier of Corpus Christi, and Janie Rodriguez of San Angelo; and five grandchildren, Avian Gomez, Sonny Gomez, Lucas Gomez, Emalie Gomez, and Ray Gomez.
 
PUBLIC VIEWING
Monday
August 8, 2022
10:00 AM to 8:00 PM
Robert Massie Riverside Chapel
402 Rio Concho Dr.
San Angelo, TX 76903
---
ROSARY
Monday
August 8, 2022
6:00 PM
Robert Massie Riverside Chapel
402 Rio Concho Dr.
San Angelo, TX 76903
---
MASS
Tuesday
August 9, 2022
10:00 AM to 11:00 AM
St. Mary's Catholic Church
7 W. Ave. N
San Angelo, TX 76903
Write Your Tribute