Dates

Feb 27, 1930 Aug 02, 2022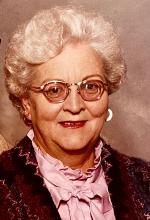 Barbara "Little General" Hurley, 92, of San Angelo, formerly of Pecos passed away on Tuesday, August 2, 2022 in Austin.

Public viewing will be from 10:00 AM until service time at 2:00 PM Saturday, August 6, 2022 at Robert Massie Riverside Chapel. Services will be officiated by Rev. Josh Gray of St. Margaret Catholic Church. Arrangements are under the direction of Robert Massie Funeral Home.

Mrs. Hurley was born on February 27, 1930 in Forsythe, Montana. Barbara graduated from Forsythe High School in 1948 and married T. L. Hurley on February 18, 1950. He passed away in 1997. Early in their lives they lived in numerous states in the central corridor of the United States, following T. L. jobs as an oil land surveyor. In the early 1970's they settled in Pecos. She was a florist for many years. Barbara was a member of the extension homemakers club. She loved being an artist, painting and doing ceramics, gardening, cooking, traveling, and doing crossword puzzles. Barbara was a list maker and kept the family and household in line, her children lovingly called her "the little general."

She was preceded in death by a grandson, James Hurley; and her sister, Patricia Kraus.

Barbara is survived by her six children, Calley Hurley of San Angelo, Kathy Hurley of Pecos; Marian Clark of Round Rock, Barbara Franco of Castroville, California, Irene Eastup of San Angelo, and Tommy Hurley; seven grandchildren, Melissa Jackson, David Bailey, Jennifer Burrous, Michael Bailey, Kimberly Clark Barth, Paul Bailey, and Sara Shuttleworth; and 11 great-grandchildren.
PUBLIC VIEWING
Saturday
August 6, 2022
10:00 AM to 8:00 PM
Robert Massie Riverside Chapel
402 Rio Concho Dr.
San Angelo, TX 76903
MEMORIAL SERVICE
Saturday
August 6, 2022
2:00 PM
Robert Massie Riverside Chapel
402 Rio Concho Dr.
San Angelo, TX 76903
Write Your Tribute