Dates

Apr 18, 1948 Jul 17, 2022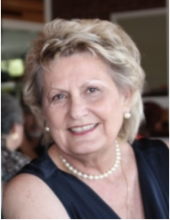 Charlotte Rebecca Sharp Farmer of San Angelo, Texas passed away peacefully in her home with her faithful four-legged companion, Sunny, by her side on Sunday July 17, 2021.
Charlotte was born on April 18, 1948 in Artesia, New Mexico to Chester Allen Boulden and Wanda Faye Milam. Charlotte grew up on a farm in Artesia, New Mexico. Charlotte married her high school sweetheart, John Sharp, in September of 1962. After getting married they settled in Roswell, New Mexico where they began raising their two children. Charlotte started her career in banking at a very young age while raising her family. In time, Charlotte and John went their separate ways. Charlotte and the kids moved to Texas expanding her career in mortgage banking in San Angelo and San Antonio. She enjoyed her career, but with the first grandchild on the way, she decided to leave banking behind and come back to San Angelo to be closer to family.
After returning to San Angelo, she began to work in property management for Duncan Investments. Charlotte became very active in the San Angelo Apartment Association, and decided to run for San Angelo City Council. She served 12 years on the city council and was very dedicated to bettering the city and life for its citizens. She worked on many projects for the city and spent years on the Ports to Plains Board, diligently working with people from Canada, Mexico and Washington, DC to get that project off the ground and running. The project she was most proud of in her term was the creation of the Texas Bank Sports Complex at Bell Street. She spent many years watching her grandchildren and others play at the former youth facilities of San Angelo, and knew San Angelo could do better. She worked many years to prove that better facilities for the youth of San Angelo also meant bringing in outside tax dollars that would benefit the city. It was a win for everyone. Charlotte was also very passionate about our armed forces, and never missed the chance to thank them for their service when the opportunity presented itself. Her hard work and dedication to the City of San Angelo earned her numerous awards, including the Woman of Distinction Award in 2010. 

Though she loved her role on the City Council, the title she cherished the most, was "NANA". She spent all her free time playing with or watching her grandkids. She met and married the second love of her life, John Farmer, in the summer of 1992. They were married for 17 years before John passed away in the fall of 2009. Those years were spent dedicated to enjoying family and the life they had built together. Charlotte's favorite thing was to be with family. She was an avid music fan, loved to dance, and watch her grandkids in any and all their events. You could count on finding her in the pool, playing 42, cards, or poker any time she could get someone to sit at the table with her. She absolutely loved to cook for family gatherings and holidays, and it was a given she would cook enough food for three armies. 

Charlotte and John Sharp met again in 2013 and rekindled the love and bonds they still shared together. They spent all their time together enjoying the family they had started so long ago until John passed in July of 2021. 

Charlotte is survived by her brother William Boulden and wife Sandra of Artesia, New Mexico, her sister Loretta Hicks of San Angelo, Texas, her son Don Sharp of Robert Lee Texas, her daughter Becky Dyches and husband Jay of San Angelo. Her grandchildren Kayla Matthews & husband Mickey of San Angelo, Ashley Dyches of McKinney, Texas, Coby Dyches and wife Krysten of San Angelo, Texas, Starzy Lee and husband Rashad of Katy, Texas, Jonathan Britts and husband Ruan of Hughesville, Maryland, Aaron Sharp and wife Janelle of San Angelo, Texas. Nephews Craig Boulden of Artesia, New Mexico, Chad Boulden and wife Kelly of Weatherford, Texas, Kyle Hicks of Dallas, Texas and Brad Hicks of San Angelo, Texas. She is also survived by 14 great-grandchildren and numerous great nieces and nephews. 

Charlotte is preceded in death by both John Sharp and John Farmer, and both of her parents. 

Services will be held at Harper Funeral Home on Saturday July 23rd, at 1:00 pm. There will be a family visitation at Harper Funeral Home on Friday July 22nd from 5:00 to 7:00 pm. Services will be officiated by Pastor Mack Roller and Scott Cotton. In lieu of flowers please donate to Tunnel to Towers, St Jude's, or a charity of your choice. 
Write Your Tribute