Dates

Aug 04, 1955 Jun 22, 2022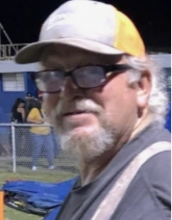 Donny S. Brandstetter, 66, of San Angelo, passed away at his home on June 22, 2022 in San Angelo. 

Donny was born to William and Ruby Shepard Brandstetter on August 4, 1955, in Haskell, TX. He met Brenda Daniels and they were married on February 28, 1991. 

Donny was a jack of all trades. His held many jobs in his life including bull riding, trading livestock and training horses and a mechanic. 

He is preceded in death by his daughter, LaVonda Brandstetter; stepdaughter, Lakendra Glass; and brothers, Pat, Royce, and Marvin Brandstetter. 

Donny is survived by his wife, Brenda; sons, William Evert Brandstetter, Jerry Dale Eckert, Jason Glass, Michael Glass, and James Glass; two sisters, Katie Pinkston and Frankie Susan Brandstetter; and numerous grandchildren, great-grandchildren, nieces and nephews. 

An open visitation will be held June 25-27, 2022 at Harper Funeral Home. 
Family and friends can sign the online register book at www.harper-funeralhome.com. 
Write Your Tribute