Dates

Jan 15, 1922 Jun 21, 2022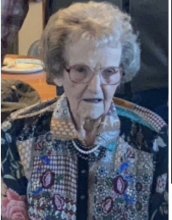 Mary Lou Hand, affectionately known by family and friends as Mama Lou, passed away peacefully in her sleep at her home in the early morning hours of June 21, 2022, at the age of 100 years. Born to Georgia Pearl (Kuhn) Reed and Elmer Lee Reed January 15, 1922, in the small town of Aleppo, PA, Mary Lou lived an idyllic childhood in her beloved Pennsylvania hills. 

After graduating high school at the tender age of sixteen, Mary Lou spent some time caring for various family members before fudging her birthdate to enroll in nurses training at Washington Hospital in Washington, PA for three years. Upon graduating, Mary Lou began her fifty-three year career as a registered nurse at a hospital in Pittsburgh before accepting a position as a private duty nurse in Washington, PA, until she joined the United States Army as an officer. World War II was raging in Europe at that time, and though Mary Lou marked "No" to overseas duty, three training camps later, she found herself aboard a ship headed for Blanford, England, where she would spend her enlistment caring for wounded Gl's returned from the front. While providing compassionate, skilled nursing care to her patients, Mary Lou was also known to minister to their spirits by providing laughter and her contagious love of life to their regimen of care. 

It was in this setting that Mary Lou met the man who would become her husband, Robert (Bob) Joseph Hand, a young officer from Crosby, Texas, recovering from a wound received in France. The two would be married in Baytown, Texas, on March 9, 1946, shortly after Mary Lou returned to the United States, and then it was off to College Station where Bob would study at Texas A&M for a petroleum engineering degree while Mary Lou worked at St. Joseph's Hospital in Bryan, Texas. 

Four years later with a degree and two children, Bob and Mary Lou were ready to be out of school and out in the world pursuing the life God had planned for them. Over the next sixty-four years, they would live in several small towns across West Texas as their family grew adding four more children to the mix.
Eventually, they would make their home as far away as Mossel Bay, South Africa, and London, England, before touching down in Bakersfield, California, and then finally coming home to Midland, Texas. During all this time, Mary Lou continued to work as an RN, most often holding the title of house supervisor. Her amazing level of energy and terrific work ethic allowed her to manage a frequently changing home, six children, and a highly responsible career with what appeared to be great ease. 

Mary Lou enjoyed her life. She loved to play bridge and dominoes; she loved her Astros, and she had her favorites on the golf tour. Before RA set her down, Mary Lou truly enjoyed the game of golf, and she played often even though she was once told by a caddie in South Africa that she was pretty bad at the sport! She genuinely loved her friends, and her family is so grateful to the community of Wall, Texas, and to the bridge community at the Senior Center in San Angelo for welcoming Mary Lou and making her feel at home as she joined you following the death of Bob in 2011. 

Mary Lou played the piano by ear, and she loved all kinds of music but especially gospel music and tunes from the big band era and those sung by crooners like Bing Crosby and frank-Sinatra. She and Bob took ballroom dancing classes at one time, and they were quite beautiful to watch as they sailed around the dance floor. She loved to dance. 

Mary Lou loved her family. She loved her siblings, Frank Reed and his wife Clara (both deceased), her sister Margie McCullough and her husband Tom (both deceased), her best friend and sister, Anita Weismann and her husband, Wladek (deceased), and her youngest sister, Eloise Sweda and her husband, Steve (deceased). She had a great affection for all of her nieces and nephews and made an effort to keep in touch with them on a regular basis. 

Mary Lou and Bob had six children together., and Mary Lou loved them well. Her children: Mary Ann Lewis (Devon), Robert Joseph Hand, Jr. (Becky), Deborah (Debby) Jean Wells (Kevin), Dana Kalenak (deceased), Michael Lee Hand (beloved of Teresa), and Patrick Gregory Hand (Cindy) have blessed her with. thirteen grandchildren, twenty-five great grandchildren, and four great-great­grandchildren. 

While celebrating her 100th birthday earlier this year, Mary Lou was asked what words of wisdom she would share that might help others live such a long, rich life. She said, "Be honest and have good morals. Love people." These are ideals Mary Lou exemplified by the way she lived her life. She loved Jesus. She accepted Him as her Savior, and she would want the same for all of you. 

A rosary will be held on Friday, June 24, 2022 at 6:30 PM at Harper Funeral Home. Mass will be held on Saturday, June 25, 2022 at 10:00 AM at St. Ambrose Catholic Church in Wall, TX. Interment to follow the service at Resthaven Memorial Park in Midland, TX at 3:00 PM. 
Write Your Tribute