Dates

May 18, 2022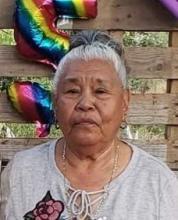 Maria Ortiz, 81, of Big Lake passed away Wednesday, May 18, 2022 at home.

Public viewing will be from 2:00 PM until 7:00 PM Monday, May 23, 2022 and from 8:00 AM until service time on Tuesday, May 24, 2022, funeral services will be 2:00 PM Tuesday, May 24, 2022, all at the Family Life Center at Bethel Baptist Church in Big Lake. Bural will follow in Glen Rest Cemetery under the direction of Robert Massie Funeral Directors.

Mrs. Ortiz was born May 31, 1940 in Acuna, Mexico. She was married to Porfirio Ortiz. Maria moved to Miller's View in 1969 and to Big Lake in 1980. She was a homemaker. Maria loved her plants, animals and speding time with her grandchildren and great grandchildren.

She was preceded in death by a son, Porfirio Ortiz Jimenez, Jr. and two great grandchildren, Nikaya Ortiz and JennaLee Briseno.

Survivors include her husband, Porfirio Ortiz of the home; her two sons, Pedro Ortiz and wife Sonia and Augustine Ortiz and wife Dora all of Big Lake; her sister, Delia Jimenez of Big Lake; her brother, Julian Jimenez of Big Lake; 11 grandchildren, Cassandra Ortiz, Marcos Ortiz, Pedro Ortiz, Jr., Felicia Ortiz, Jessica Ortiz, Natalie Ortiz, Melissa Ortiz, Mauro Ortiz, Jr., Jose Salas, Tonia Salas, and Korina Salas; and 23 great grandchildren.
PUBLIC VIEWING
Monday
May 23, 2022
2:00 PM to 7:00 PM
Family Life Center at Bethel /Baptist Church
1106 Utah St
Big Lake, TX 76932
---
FUNERAL SERVICE
Tuesday
May 24, 2022
2:00 PM
Family Life Center at Bethel /Baptist Church
1106 Utah St
Big Lake, TX 76932
Write Your Tribute