Dates

Jun 18, 1949 May 14, 2022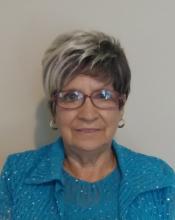 Francis Navarro Gonzales, 72, passed away Saturday, May 14, 2022, in her home surrounded by her loving family.

Public viewing will be from 9:00 AM until 8:00 PM with the Rosary being prayed at 6:00 PM Friday, May 20, 2022, at Robert Massie Riverside Chapel. Liturgy of the Word will be at 10:00 AM Saturday, May 21, 2022, at Robert Massie Riverside Chapel with Deacon Abel Fernandez, officiating.

Mrs. Gonzales was born June 18, 1949 in San Angelo to Francisco and Trinidad Navarro. Francis was a lifelong resident of San Angelo. Francis married Norbert Gonzales on July 30, 1973 in San Angelo. She was a homemaker. Francis was a member of St. Joseph Catholic Church. She enjoyed cooking, gardening, helping the elderly, and anyone in need. Francis was a wonderful caregiver to her husband. She loved being with her family and friends.

Survivors include her husband, Norbert Gonzales of the home; her daughter, Leslie Gonzales of San Angelo; six grandchildren, Luis Almeraz, Jr., Marcos Almeraz, Marissa Ameraz, Christopher Gonzales, Elli Montanez, and Alize Montanez all of San Angelo; four sisters, Olivia DeLa Cruz, Carmen Martinez, and Mary McArthur and husband Ralph all of San Angelo, and Micaela Gonzales and husband Greg of Odessa; a brother, Jerry Navarro and wife Rachel. Francis was preceded in death by her parents; a sister, Molly Joslin; and a granddaughter, Greenlee Montanez.

The family would like to thank the staff of Kindred Healthcare, and Kindred Hospice for their loving care.
PUBLIC VIEWING
Friday
May 20, 2022
9:00 AM to 8:00 PM
Robert Massie Riverside Chapel
402 Rio Concho Dr.
San Angelo, TX 76903
ROSARY
Friday
May 20, 2022
6:00 PM
Robert Massie Riverside Chapel
402 Rio Concho Dr.
San Angelo, TX 76903
---
MASS
Saturday
May 21, 2022
10:00 AM to 11:00 AM
Robert Massie Riverside Chapel
402 Rio Concho Dr.
San Angelo, TX 76903
Write Your Tribute