Dates

Mar 31, 1932 May 07, 2022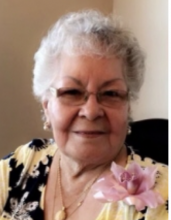 Our dear beloved mom, Armandina G. Casillas passed away on Saturday May 7, 2022 surrounded by her loved ones. She was born in Ozona, Texas on March 31, 1932. She was preceeded in death by her parents Bernardo De La Garza and Neponucena Perez de la Garza, Brothers Bernardo, Enrique, Leandro, Jose, Jesus, and sister Maria Luisa Quiroz.
Nena is survived by her two sons Abelardo (Rosalinda) and Oscar (Camelia) and her two daughters Virginia (Luis) and Alma Alicia (Bart). Her grandchildren, Abe III, Oscar Leonel, Juan Fabian, Jose Alberto, Amado, Luis Rene, Belia Yvonne, Lilliana Marie and Brandon Eugene. Great Grandchildren, Jazmin, Emerie, Brittany, Andrew, Tessa, Brianna, Dominic, Fabian, Julian, Christian, Eriana, Bianca, Nadia, Alexi and Oscar. Great, Great Grandchildren, Aliana, Evangelia, Genesis, Jaiden, Jonothan, Serenity, Jackson, Lorenzo, John Jr., Dominic Jr. Her brother, Leonel De La Garza; and her sister, Sera Rodriguez De La Garza. Numerous other family members and friends.  
Nena, as she liked to be called, encouraged her children to be responsible, loving, and most importantly wanted them to get an education. She loved to travel and visit her children wherever they lived, from Texas, to California, Puerto Rico, Hawaii, Oregon and Italy.  She especially enjoyed visiting Saint Peter's Cathedral and Sistine Chapel. She showed affection to all who visited her by hugging them and offering them food. Even in her final days, she wanted to make sure that everyone was fed, "ya comieron?".
Nena will be fondly remembered by all who came in contact with her.
The Rosary will be 6:00 P.M., Tuesday, May 10, 2022, at Harper Funeral Home Chapel. The Funeral Mass will be 10:00 A.M., Wednesday, May 11, 2022, at St. Joseph's Catholic Church with Father Ismael Velazco Ornelas as celebrant.  The burial will follow at Lawnhaven Memorial Gardens.
Write Your Tribute