Dates

Feb 23, 1941 Apr 15, 2022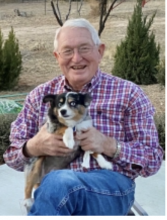 Tony Eugene Cain passed away peacefully at the age of 81 on April 15, 2022 in San Angelo, Texas.
Tony was born in Blue Ridge, Texas on February 23, 1941 to Roy Eugene Cain and Joyce Dorothy Cain.
He graduated from Andrews High School in 1959 where he was an all-district athlete in both football and track.
In the early 1960s he moved his young family to San Angelo and began his long and successful career with Concho Concrete Company.  Tony came from humble beginnings and his success is a testament to what can be accomplished by hard work.  His favorite saying was "faith and hard work make a good life".
Tony spent his retirement years ranching and investing.  His love of agriculture kept him busy and engaged until his death.
Tony married his best friend, Judy Corbell Cain in 1997.  Tony and Judy enjoyed many adventures, traveling to Europe and places in the US.  Their favorite was roaming through rural Texas where they enjoyed exploring antique stores and having "snacks" along the way.  Whether it was enjoying Texas barbeque, Mexican food or other small town Texas fare, they cherished their road trips. 
Tony and Judy enjoyed everyday ranch life and successfully raised Boer goats and Angus cattle. Their morning coffee time discussions were Tony's favorite part of the day. And anyone who knew Tony also knows his other favorite pal, Abbie, who was always by his side.
Judy preceded Tony in death, passing away December 27, 2021.  "I have always loved her" was the quote he included in Judy's obituary.
Tony was very close to his three children and their spouses.  He was loved by his grandchildren and great grandchildren.  They loved his smile, ranch rides with him and especially his "Papa T" butter steaks.
Tony was preceded in death by his parents, his brothers Freddy Cain and Jerry Cain, his sister Joan Dixon and his beloved wife, Judy.  He is survived by sons, Greg Cain, Randy Cain and wife Jyl, his daughter Ginger Walker and husband Kent; Grandchildren, Courtney Kuhn and husband Tim, Meredith Nunnelly and husband Vince, Collin Walker, Camille Cain, and Sam Walker;  Great-grandchildren, Caitlyn, Reagan and Coen.  He is also survived by his siblings, Don "Joe Joe" Cain, James Cain, and Judy Withers.
Service will be held at First United Methodist Church, San Angelo at 2:00 pm on Saturday, April 23.
In lieu of flowers, please send donations to Shannon Employee Benevolence Fund, P.O. Box 1879, San Angelo, TX 76902 or Therapet, a non-profit organization that provides animal assistance therapy and activities, Therapet.org, PO Box 130118, Tyler, TX 75713.
Celebration Of Life
Saturday, April 23, 2022
2:00PM
First United Methodist Church 
37 E. Beauregard Ave. 
San Angelo, TX 76903
Write Your Tribute