Dates

Sep 14, 1922 Jan 24, 2022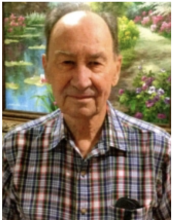 Curtis Jackson Gibson, 99, passed away on Monday, January 24, 2022, in his residence at Lyndale San Angelo Senior Living. He was born on September 14, 1922, to Euel and Vinnie Gibson in Womack Hill, Alabama. 

Curtis married Erma Louise Johnson, on September 6, 1943, in Lexington, Mississippi, soon after he joined the Army Air Corps. His first assignment was an instrument instructor for the Tuskegee Airman in Tuskegee, Alabama. Curtis loved being a pilot, and enjoyed flying the B-17, B-26, B-47, the B-52H, and the C-97. Because of his military career, Curtis and Erma and their two daughters, Carole and Becky were fortunate to have had the opportunity to live and travel in many states and countries 
After retiring from the Air Force, Curtis spent a lot of time woodworking in his garage, traveling with Erma and friends in their fifth-wheel all over the country, and visiting their children and grandchildren. 

Curtis is survived by his daughter, Becky Cooke Holland and husband Bill, grandchildren Curtis Cooke Brandon Cooke and wife Yvette, Becky Wagner and husband Bill, Robin Wach and husband Ronnie five great grandchildren, and three great-great grandchildren. 

He is preceded in death by his wife, Erma Gibson, daughter Carole Stockinger and her husband, Robert, and son-in-law, Rhea Cooke, and a brother and sister. 

A graveside service will be conducted by Harper Funeral Home at 1:00pm on Monday, January 31, 2022, at the Texas State Veterans Cemetery in Abilene. The family would like to express their heartfelt thanks for the wonderful help and care given by Kindred Hospice, the kind support from Curtis's Lyndale family, and the expertise provided by Harper Funeral Home.
Graveside
Monday, January 31, 2022
1:00PM
Texas State Veterans Cemetery 
7457 W. Lake Rd. 
Abilene, TX 79601
Write Your Tribute