Dates

Sep 16, 1938 Jan 24, 2022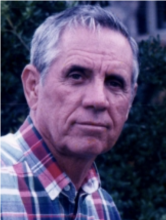 Arthur Hewes Denis III, better known as "Chico", returned home to his Lord & Savior on January 24, 2022 at the age of 83.  

As a lifelong resident of Tom Green County, Chico was well known as an accomplished rancher, farmer, businessman, and true steward of the land. Chico loved to work…. he lived to work. 

Born September 16, 1938, Chico was the first child of Arthur Jr. and Joan Chambers Denis. He graduated from San Angelo Central High School in 1957. The following year, on August 18, 1958, he married his high school sweetheart, Virginia "Ginnie" O'Barr. After living in San Angelo for a brief time, the couple moved to the Chambers/Denis family ranch which straddles the Tom Green/Concho County line near Vancourt, Texas. Chico and Ginnie established their home and devoted their lives to not only the affairs and betterment of Denis Ranch, but to improving all aspects of the agriculture industry. It was here on the family ranch that they raised and loved their children, Leslie, Mark and Carolyn "Purple". Realizing the importance of diversification, Chico cleared pasture during the 1960's to establish farmland on the ranch. He later established a sheep feedlot, feedmill, and grain elevator to even greater diversify the operations of Denis Ranch. Known for his ingenuity and willingness to try new things, Chico was one of the first farmers in Tom Green County to practice no-till farming. A practice that the ranch still maintains today. 

Chico was very involved in his local community as well as the agricultural community. Always active, he served as a Texas Game Warden, President of the Wall ISD School Board, President of the Texas Sheep & Goat Raisers Association and the American Sheep Industry, President of the Tom Green County Tax Appraisal Board, President of the Lipan Kickapoo Water District, and was appointed to the National Lamb Board. He was a loyal member of St. Ambrose Catholic Church in Wall, where he faithfully ushered during Saturday evening Mass, and could be found each year selling meal tickets during the annual church festival. Chico loved flying and was an accomplished airplane and helicopter pilot, as an innovative cowboy he was always looking for a faster horse. As a tradition at the St. Boniface Festival in Olfen, Chico would fly over each year and provide for the annual candy drop from the sky. 

Chico is survived by his wife Virginia "Ginnie" O'Barr Denis, son Mark and wife Dorothy Denis, Daughter Carolyn and husband Rick Weise, all of Vancourt, Texas. His legacy lives on through his grandchildren: Amanda Mueller Abright and husband John, Kevin Denis and wife Lindsey, Jessica Denis Gully and husband Travis, Ariel Mueller Grassini and husband Dario, Alex Mueller and wife Savanah, Collin Weise, Kate Weise and Lara Weise, and four great-grandchildren: Barrett, Maggie and Caulder Denis and Conner Gully. He is also survived by siblings Joan Denis Johnston and husband Dick and Dick Denis and wife Rosemary, as well as a host of nieces, nephews and family friends. 
Chico was preceded in death by his parents, Arthur Hewes Denis Jr. and Joan Chambers Denis, his brother John "Jeeps" Denis, and his daughter Dr. Leslie Denis Mueller. 

A Rosary will be held on January 26, 2022 at 6:00 pm at St. Ambrose Catholic Church in Wall, Texas. A Funeral Mass will be celebrated on January 27, 2022, at 10:00 am at St. Ambrose Catholic Church in Wall, Texas. Honorary Pallbearers include: Dick Braden, Johnny Duncan, Jerry Peiser, Kevin Denis, Alex Mueller and Collin Weise. A private family burial will take place at the Denis Ranch Family Cemetery, Vancourt, Texas. 

In lieu of flowers, please send memorials to a favorite charity of your choice.
Rosary
Wednesday, January 26, 2022
6:00PM
St. Ambrose Catholic Church 
8602 Texas Loop 570 
Wall, TX 76905
Funeral Mass
Thursday, January 27, 2022
10:00AM
St. Ambrose Catholic Church 
8602 Texas Loop 570 
Wall, TX 76905
Write Your Tribute