Dates

Jul 31, 1923 Jan 23, 2022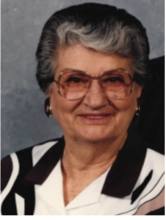 Evelyn M. Schwertner was born to Neal and Lillie McBurnett on July 31, 1923. She married Ernest Schwertner on October 26, 1948, in Rowena, Texas. 

Evelyn was preceded in death by her brothers Malcolm, Billy, Pete, and Paul McBurnett. Evelyn farmed with Ernest and worked at the post office as a clerk and retired as a rural mail carrier for 36 years. Evelyn was on the city council in Miles and she volunteered at the Miles Senior Citizens Center. At the age of 13, she accepted Christ as her Savior and was a devoted Christian all her life. She will be missed by special friends Jerry McBurnett and Billy Schwertner. 

Pallbearers for the service will be David, Neal, and Don McBurnett, Jason Gentry, Albert Simpson and Billy Schwertner. Wendell Arrington will be an honorary pallbearer. 

Visitation will be held at the Miles Trinity Lutheran Church at 10:00 AM on Friday, January 28, 2022, the service will follow at 11:00 AM with Pastor Anne officiating. 

Due to Covid, the family request everyone please wear a mask.
Visitation
Friday, January 28, 2022
10:00AM - 11:00AM
Trinity Evangelical Lutheran Church
501 St. John Street 
Miles , Texas 76861
Funeral Service
Friday, January 28, 2022
11:00AM
Trinity Evangelical Lutheran Church
501 St. John Street 
Miles , Texas 76861
Write Your Tribute