Dates

Jul 15, 1984 Jan 22, 2022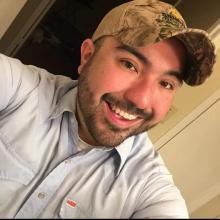 Jacob "Thumper" Romo, 37, of San Antonio passed away Saturday, January 22, 2022, in San Antonio.
Public viewing will be from 11:00 AM Tuesday, January 25, 2022 until service time on Wednesday.

Rosary Services will be at 6:00 PM Tuesday at Robert Massie Riverside Chapel with Deacon Claudio Sanchez, officiating.

Services will be 2:00 PM Wednesday, January 26, 2022, at Robert Massie Riverside Chapel with Deacon Claudio Sanchez, officiating. Entombment will follow at Calvary Cemetery Mausoleum under the direction of Robert Massie Funeral Home.

Mr. Romo was born on July 15, 1984, in San Angelo. Jacob graduated from San Angelo Central High School in 2003 and attended Angelo State University. He was a loan officer at Security Finance in San Angelo and then at Chase Bank and Sun Loan Finance in San Antonio. Jacob enjoyed playing tennis, cheering on his Green Bay Packers, watching the Golden Girls, and reading. He also loved spending time with his besties, Lety and Lisa. If you talk to his family or friends, they will tell you how much he loved his mother.

Jacob is preceded in death by a nephew Xavier Rivas; an aunt, Mary Lou Guerrero; and two uncles, Antonio Romo and Albert Romo.

Survivors include his spouse, Thom Biggs of San Antonio; his parents, Petra Apodaca and Ernesto H. Romo, Sr., both of San Angelo; his sister, Alexandra Palacio of San Angelo; two nieces, Miranda Lara and Anthony of Ballinger, Myrella Luna of San Angelo; a nephew, Francisco Palacio of San Angelo; a great niece, Mila Lara; three great nephews, Esteban Luna, Anthony Lara, and Adrian Lara; five aunts, Tonie Martinez and husband Adan of San Angelo, Estella Abalos of Odessa, Linda Alvarado of San Angelo, Olga Lopez and husband Jose of Arlington, and Consuelo Lopez and husband Alejandro of San Angelo; three uncles, Max Guerrero and wife Mary Lou of San Angelo, Jesus H. Romo of Eldorado, and Benito Romo of San Angelo; and numerous cousins and friends.
ROSARY
Tuesday
January 25, 2022
6:00 PM
Robert Massie Riverside Chapel
402 Rio Concho Dr.
San Angelo, TX 76903
FUNERAL SERVICE
Wednesday
January 26, 2022
2:00 PM
Robert Massie Riverside Chapel
402 Rio Concho Dr.
San Angelo, TX 76903
Write Your Tribute