Dates

May 26, 1939 Jan 20, 2022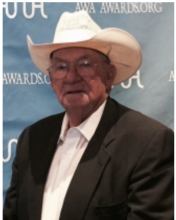 Homer Franklin "H.F." Ritchie, 82, of Big Lake, Texas went to be with the Lord and sing with the Angels on January 20th, 2022. 

H.F. Ritchie was born on May 26th, 1939, in Quanah, Texas to Elmore and Donna Ritchie. He grew up with four sisters. H.F., better known as "Ritchie" or "PawPaw," grew up playing guitar and mandolin, singing, and spreading wildly inappropriate jokes. He first stepped foot on stage at six years old, that was the beginning of his 65-year music career. While in high school at Frank Phillips, Ritchie joined the choir. His choir teacher put together a group of five high school boys called The Five Bops. He later attended Baylor University. 

In November 1974, after a previous marriage that blessed him with two children, H.F. married Wanda June Ritchie, better known as 'June,' the love of his life. In 1966, Ritchie settled down in Big Lake, Texas. He first worked at Harbison-Fischer, later moved on to own his business, Santa Rita Pump and Supply. He then worked and finished his salesman career with NOV at the age of 76. Ritchie served as mayor of Big Lake from 1984 to 1998 and was chairman of the Concho Valley Council of Government for three years. He also was chairman of the Texas Association of Regional Councils and represented Texas at a National Meeting. 

Towards the end of his music career, Ritchie recorded an album of ten songs, eight of which he wrote himself. One of his family's favorites being 'Santa Rita No. 1' about the gusher that came in west of Big Lake and started the West Texas oil boom. He shared the stage with many music legends, such as Bill Dees, Roy Orbison, Hank Thompson, Hank Williams, Sr., Red Stegall, The Big Popper, and many more. 
Ritchie received an outstanding amount of awards in his lifetime from Citizen of the Year, Pioneer of the Year, Western Swing Hero, and was even inducted into the Western Swing Hall of Fame. 'PawPaw' liked to spend his free time fishing, drinking coffee with friends, and spoiling his grandkids. Many of his friends and family would describe him as selfless, kindhearted, and a man with a heart of gold. 

Ritchie is survived by his son Dennis Ritchie of Big Lake, Texas; son Mitch Davis and Christine of Big Lake, Texas; and daughter Dyanne Farrington and husband Tarry of Midland, Texas. He had six grandchildren, Shawna De La Rosa of San Angelo, Texas; Amanda Ethridge and husband Collin of San Angelo, Texas; Joeli Huddleston and husband Heath of Midland, Texas; Dylan Ritchie and wife Savannah of Lubbock, Texas; Carlee Millsap of Midland, Texas; and Cooper Millsap and fiancé Demi Farmer of Midland, Texas. Great-grandchildren Keegan De La Rosa of San Angelo, Texas; Maddy Huddleston of Midland, Texas; and Tyson Ritchie of Lubbock, Texas. 

He is also survived by sister Pasty Reardon of Amarillo, Texas; sister-in-laws Naomi Williamson of Colorado City, Texas and Patsy Painter of Midland, Texas; brother-in-laws Rodney Oaks of Ackerly, Texas and Leon Oaks of San Angelo, Texas. Several nieces and nephews and more friends than you can count. Let us not forget his pride and joy, dog Blaze. 

Ritchie was preceded in death by his wife, June Ritchie, parents Elmore and Donna Ritchie, sisters Laveca White, Jeannie Bright, Venetta Pace, and great-grandson Clayton De La Rosa. 
Visitation will be held Wednesday, January 26th from 5-7 p.m. at Harper Funeral Home in San Angelo, Texas. Funeral services will proceed on Thursday, January 27th at 1 p.m. at the Reagan County Community Center in Big Lake, Texas. Graveside services will take place at Stiles Cemetery. 

In lieu of flowers, the family requests that donations be made to a few of Ritchie's favorites: West Texas Boys Ranch, Reagan County 4-H, and the San Angelo Cowboy Gathering.
Visitation
Wednesday, January 26, 2022
5:00PM - 7:00PM
Harper Funeral Home 
2606 Southland Boulevard 
San Angelo, TX 76904
Funeral Service
Thursday, January 27, 2022
1:00PM
Reagan County Community Center 
1305 N. Montana St. 
Big Lake, Texas 76932
Final Resting Place
Stile Cemetery 
Stiles Cemetery Road 
Big Lake, Texas 76932
Get Directions
Write Your Tribute