Dates

Mar 29, 1959 Jan 09, 2022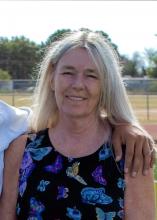 Marie Jane Murphy, 62, of San Angelo passed away Sunday, January 9, 2022, at home.

Arrangements and cremation are under the direction of Robert Massie Funeral Home.

Mrs. Murphy was born on March 29, 1959, in Rexburg, Idaho. Early in her adulthood, Marie was a secretary and bar manager. She married Dennis Murphy on February 28, 1993 at Saint Paul Presbyterian Church in San Angelo. Later she founded All About Cleaning for You and owned and operated it from 2007 until her illness in 2021. Marie loved camping, animals, and spending time with her family and friends.

She is survived by her husband Dennis; three children, Shane Williams, Aaron Murphy and wife Kari, all of San Angelo and Amanda Schoenenberger and husband Ryan of Abilene; five grandchildren, Jacob Williams, Kaden Murphy, Cooper Murphy, Madilynne Murphy, all of San Angelo and Sage Schoenenberger of Abilene; and her mother-in-law Lieselotte Murphy of San Angelo.
Write Your Tribute