Dates

Jan 09, 2022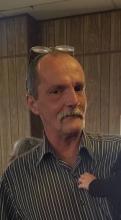 John Luke Young, Jr. 58, of San Angelo passed away Sunday, January 9, 2022 at home.

Cremation and arrangements are under the direction of Robert Massie Funeral Home. Services will be scheduled at a later date in Texas and Indiana.

Mr. Young was born January 28, 1963, in Richlands, Virginia to John Luke and Wanda Alley Young. Early in his career he installed large antennae towers and was later an electrician. John loved darts, cards, and whiskey. He enjoyed metal detecting, trading antiques, and spending time with his girlfriend Rebecca Cottle. 

John was preceded in death by his parents, and a grandson Hayden.

Survivors include five children, Jennifer Young, Johnny Young, III, Skylar Young, all of Portland, Indiana, Nikeshia Young, and Annashea Young, both of Fort Wayne, Indiana; five siblings, Sherry Russell, Denise Blackburn, Vanessa Knauff, Stephanie Dillon, Heather Young, and Amy Osborn, all of Wabash, Indiana, and 13 grandchildren.
Write Your Tribute