Dates

Oct 12, 1936 Nov 28, 2021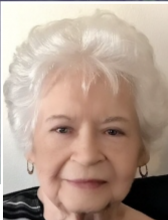 Alpha (Nell) Clark entered eternity peacefully while asleep in her home on Sunday, November 28, 2021 at the age of 85 years, 1 month and 17 days. She was born to parents William Franklin Morgan and Alpha Marian (Alfred) Morgan in Center Hill, Texas, October 12, 1936. She was raised in a simple country home, traveling to the "big" town of Crockett once a month in a horse drawn wagon to purchase the supplies that they did not grow for themselves. When Nell was 12, her family moved to Houston due to her father's health and the prospect of an easier and better job and life. It was certainly another world in which she found herself. She had to take three different city buses to get to the three-story school that she attended. Nell was frightened but she soon adapted, making new friends both at school and in her neighborhood. 

It was during her junior year of high school that she met the young man who would become the love of her life, her soulmate, best friend, and husband. He was not the sort of person that her parents and teachers thought she should be involved with, but her heart knew different. Many years later, her Mother remarked "Jerry was not the man I would have chosen for Nell to marry, but I am so glad God knew better than me. I could not ask for a better husband for her." Nell and Jerry were married when they eloped to Rosenburg, Texas on April 4, 1953. Married life was a big adjustment but being a wife and mother was her dream since she was very young. 

Soon after they were married, Jerry, through the witness of a co-worker, accepted Christ as his personal Lord and Savior. There was such a dramatic change in his life that Nell realized although she had been a good person, she also needed that personal relationship with the Lord. So, a year later, Nell also accepted Christ as her personal Lord and Savior. 

June 27, 1954, Nell gave birth to a son, Gerald Albert Clark, Jr. And, only 15 months later, on September 14, 1955, she welcomed a daughter, Cynthia Nell Clark. After several years of hoping and praying, their home was blessed with another son, Jonathan Edward Clark, born July 22, 1963. 

Nell and Jerry were very involved in helping establish and build the Sherwood Baptist Church in northeast Houston. Nell's special love was teaching children and she also learned to play the piano and sing with a beautiful alto voice. She loved singing with her pastor's wife and with her husband. Several years later, when her husband became pastor of the church, she also served in many other ministry areas. She was a wonderful and hard-working pastor's wife, loving mother, doting grandmother, steadfast prayer warrior, gracious hostess and loyal friend to all. 

She gladly followed her husband when he was called to pastor the Bible Baptist Church of Dumas, Texas in October 1972. They served together until the Lord called her husband home December 20, 2000. Now, she faced another big adjustment in her life. No longer a pastor's wife, a year later she made the decision to move to San Angelo, Texas where several family members were already living. She and her daughter moved into a house together and this would be the last move Nell made until she made the move to glory. Soon after the move to San Angelo, she joined the Central Faith Baptist Church where the pastor and wife were old friends in the ministry. Two years later, when the pastor retired, the church called Nell's older son, Gerald Clark, to be their pastor. She helped in the children's ministry providing teaching material, the women's ministry, served as church clerk, and was a continual prayer warrior. 

Nell was preceded in death by her parents Bill and Alpha Morgan, brother Billy Morgan, husband Jerry Clark, son-in-law Roger Hickey, and daughter-in-law Gail Clark. 

She is survived by her sister, Jane Burcham and husband, David of Houston, Texas. She also leaves her legacy to three children, Gerald Clark Jr. and Cynthia Hickey, both of San Angelo and Jon Clark and wife, Tina of Amarillo, Texas. 

Nell was grandmother to seven--Tamara (Clark) Edwards and husband, Chris of San Angelo, Texas; Eugene Clark and wife, Shandra, of Rockwall, Texas; Rachael (Clark) Diaz and husband, Rudy of San Angelo, Texas; Miriam (Hickey) Smith and husband, Justin of San Angelo, Texas; Beverly (Clark) Meyer and husband, Colby of Amarillo, Texas; Tiffany (Clark) Nuñez and husband, Mitch of San Angelo, Texas, and Jonathan Clark and wife, Katelyn of Liberty Hill, Texas. 

Her 19 great-grandchildren range in age from 10 days old to 46 years old. They include Dylan Putman and wife, Lela, Ashley Putman, and Ryan Edwards, all of San Angelo, Texas; Caleb Clark, Morgan Clark and Gavin Clark, all of Rockwall, Texas; Jazmin Diaz, Jathin Diaz, and Jerrin Diaz, all of San Angelo, Texas; Morgan Smith, Austin Smith, Madalynn Smith and Mackenzie Smith, all of San Angelo Texas; Daxon Meyer, Grayson Meyer and Coleson Meyer, all of Amarillo, Texas; Kamdyn Nuñez and Kinsler Nuñez, both of San Angelo, Texas; and Declan Clark of Liberty Hill, Texas. God also blessed Nell with one great-great-grandchild, Everly Putman of San Angelo, Texas. 

She is also survived by Mike Putman, numerous nieces and nephews as well as cousins and other family members and a host of friends and those she served through her ministry service to the Lord. 
Viewing is open to all beginning Wednesday, December 1st, 5:00PM at Harper Funeral Home, 2606 Southland Blvd., San Angelo, Texas, 76904. 

A Celebration of Life Service will be held Friday, December 3, 2021, 10:30AM at Central Faith Baptist Church, 2460 Jomar, San Angelo, Texas, 76901. The service will be officiated by Pastor Gerald Clark Jr. Burial will follow on Saturday, December 4, 2021, 10AM at Dumas Cemetery, Dumas, Texas. 
Pallbearers are her grandsons, Eugene Clark, Jonathan Clark, Rudy Diaz, Christ Edwards, Colby Meyer Mitch Nuñez, Justin Smith and Mike Putman. 

In lieu of flowers, donations may be made in Nell Clark's honor to the ministries of Central Faith Baptist Church.
Viewing
Wednesday, December 01, 2021
5:00PM
Harper Funeral Home 
2606 Southland Boulevard 
San Angelo, TX 76904
Viewing
Thursday, December 02, 2021
8:00AM - 7:00PM
Harper Funeral Home 
2606 Southland Boulevard 
San Angelo, TX 76904
Funeral Service
Friday, December 03, 2021
10:30AM
Central Faith Baptist Church 
2460 Jomar Street 
San Angelo, Texas 76901
Final Resting Place
Dumas Cemetery 
1015 S Dumas Ave. 
Dumas, Texas 79029
Write Your Tribute