Dates

Jan 06, 1933 Sep 20, 2021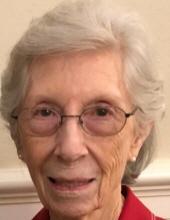 Lilburn Dean Goodman Walker was born to C.C. (Mike) and Mathilda (Tillie) Goodman on January 6, 1933, in London, Texas and passed from this life on September 20, 2021, in San Angelo, Texas. The last couple of years have been hard for Lilburn due to advanced dementia and the isolation from Covid. After her husband G passed away on July 6th, 2021, Lilburn was just lost and had no desire to go on. 

Lilburn grew up on a small bit of land around London. Her dad worked as a ranch hand. Times were hard as she and her siblings grew up during the Great Depression. She graduated London High School in 1950 and was valedictorian of her class of 5.  

After graduation, Lilburn worked in a drugstore, furniture store and at the clinic in Junction, Texas. While working at the clinic she met G.W. Walker. Only a few months later on February 24, 1951, Lilburn and G married and their 70-year adventure began. G was in college at Southwest Texas State College in San Marcos when they added Todd and Tanis to their family. When G finished school, they moved to Coahoma, then Mason and later to Georgetown while G pursued his career in education. Once in Georgetown, Lilburn began going to college at Southwestern University, but that was too expensive. After one year, she started commuting to the University of Texas in Austin. Todd was around 13 years old, and Tanis was 11 years old when Lilburn started college. Lilburn and G wanted their kids to go to college, so mom went to college in order to be able to get a good job. That way she and G would be able to afford college for their kids. Lilburn graduated from the University of Texas in Austin in 1967 with a B.S. in education and obtained a librarian science certification in 1969. She was a librarian at Southwestern University for 2 years until a job opened up at Georgetown High School where she was the head librarian for 17 years. 

While living in Georgetown, they attended the Georgetown Church of Christ and made many special friends including Bob and Margie Thomas and Bill and Tylene Edmiston. The three couples remained best friends throughout their lives.  

In 1986, Lilburn and G moved to San Angelo in order to be closer to their families and to live in a place where they could have G's mom live with them when the time came. As it turned out, G's mom passed away before she could live with them. They were always thinking and planning for the future. They wanted to make their lives and the lives of their kids easier. While living in San Angelo, Lilburn began working for the Tom Green Library System at the central library (11 years). Lilburn was the catalogue librarian working behind the scenes in the office doing what she loved! She retired in 1998. 

Lilburn loved books and reading, needlepoint, cross stitching, line dancing, being with her kids, grandkids and great grandkids and serving at church on the funeral meal committee. She also volunteered at Rust Street and did a monthly route for Meals for the Elderly for years. Most people were unaware of the many things she did because that's how she liked to serve. She made countless visits to people in the hospital and had great Bible knowledge but didn't make a big deal of it. Her testimony was the way she lived her life. If she feared that she offended anyone in any way, she was he first to apologize because she wanted to be on good terms with everyone.  

Lilburn is preceded in death by her sweet G, her parents, brother-in-law, James Dagen, sister-in-law Pat Goodman, sister-in-law Loma Harris, brother-in-law Ballard Harris, brother-in-law Carl Nolte. She is survived by her son Todd (Jackie) of Abilene, daughter, Tanis (Allen), grandchildren, Cooper Price (D'Lynn) of San Angelo, Michael Walker (Kristen) of Longview, Mark Walker of Longview, LaBecca Buselli (Nick) of San Angelo, great grandchildren, Seth and Sydney Price of San Angelo, Michaela, Madelyn and Bear Walker of Longview, sister Jean Dagen of Fredericksburg, brother Larry Goodman of Austin, sister in law Gwen Nolte and nephews Edward Harris of Junction, Clint Goodman of Austin and Boyd Goodman of Spring. 

Honorary pallbearers are Bill Edmiston, Cooper Price, Michael Walker, Mark Walker, Seth Price, Nick Buselli, Mitch Freeman, David Gonzales and the late Bob Thomas. 

The family would like to thank Dr. Forlano for taking such good care of mom for over 30 years. In addition, we would like to thank the staff at Brayden Park and Crystal and Brad from Concho Hearts Hospice for their loving care. 

Services are under the direction of Harper Funeral Home and will be at the Johnson Street Church of Christ on Friday, September 24, 2020, at 10:00 AM with Tommy King officiating. The service will be available on live stream from the church website. In lieu of flowers, memorials may be made to Rust Street Ministries, 803 Rust Street, San Angelo, TX 76903.
Viewing
Thursday, September 23, 2021
8:00AM - 7:00PM
Harper Funeral Home 
2606 Southland Boulevard 
San Angelo, TX 76904
Funeral Service
Friday, September 24, 2021
10:00AM
Johnson Street Church of Christ 
2200 Johnson Avenue 
San Angelo, TX 76904
Write Your Tribute