Dates

Jan 04, 1934 Sep 19, 2021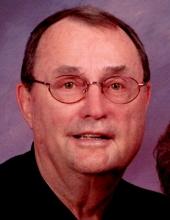 Jerry Frederick of San Angelo passed away September 19, 2021, at the age of 87. He was born on January 4, 1934, in Blooming Grove, Texas on his sister, Bobby Jean's 5th birthday, to Bob and Maebell Frederick. Jerry had many names he went by, he was born Billy Gerald, in grade school he was nicked named Rusty and when he started working he went by Jerry, also know affectionally by Daddy and Paw Paw. 

He graduated from Frost High School in 1951. He moved to Lubbock, after graduation and attended Texas Tech. He met the love of his life Lydia Sanders at the Hi- D- Ho drive in and they were married March 12, 1954. Their first born daughter Sabrina was born in Lubbock in 1957 and they soon moved to El Paso Tx where Rusty sold chicken feed on both sides of the boarder. When second daughter Sherry was born in 1960 they were living in Odessa, Tx he was working at Bronco Chevrolet selling used cars. 

In 1970 he had the opportunity to buy the Lincoln Mercury dealership in San Angelo. Jerry was a salesman and an entrepreneur and sold just about anything. After selling the dealership in 1985 he bought a women's apparel franchise with his friend George Mc Crea. In 1999 he went in partnership with Bob Parr and built and operated three Lazy Boys Galleries in Orlando Florida. 

Jerry volunteered on several charitable organizations and participated in San Angelo stock show premium sale. He loved this community and helped to promote its' success for many years. 

Jerry loved to travel and loved to play golf even more. He had the opportunity to play golf in several countries, his favorite was Saint Andrews golf course in Scotland. He fished in Alaska and went bird hunting in Mexico and he loved Elk hunting in Colorado. 

He lived a good life, gave generously and love his family the most He is proceeded in death by his parents Bob Frederick and Mae Bell Webb, stepfather Joe Webb, sister, Bobby Jean Mowrey and loving wife of 62 years Lydia Frederick. 

He is survived by daughters Sabrina Ward (Bob), Sherry Abel (Clark). Grandchildren Justin (Joni), Jenna, Jake (Katy), Jaren. Great-grandchildren, Jackson, Jameson, June, Ila Ella all of San Angelo. He is also survived by special cousins, nieces and nephews on both sides of the family. And his special buddy Elva Herrera. Thank you Elva for your love and care of our Daddy and Paw Paw. 

If you would like to make a donation in his honor his favorite charities were those that concerned children. Shriners Hospital for children, St. Jude, JPW Learning Center, Arms of Hope and Rust Street Ministries. 

A visitation will be held on Wednesday, September 22, 2021, from 2:00-4:00pm at Harper Funeral Home. Funeral service will be on Thursday, September 23, 2021, at 2:00pm at Johnsons Street Church of Christ. Burial to follow at Lawnhaven Memorial Gardens.
Visitation
Wednesday, September 22, 2021
2:00PM - 4:00PM
Harper Funeral Home 
2606 Southland Boulevard 
San Angelo, TX 76904
Funeral Service
Thursday, September 23, 2021
2:00PM
Johnson Street Church of Christ 
2200 Johnson Avenue 
San Angelo, TX 76904
Final Resting Place
Lawnhaven Memorial Gardens 
4989 FM Highway 1223 
San Angelo, TX 76905
Write Your Tribute