Dates

Aug 21, 1928 Sep 08, 2021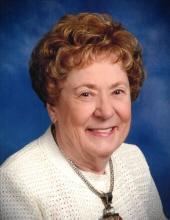 Peggy Gainer passed away on September 8, 2021, at the age of 93. Peggy was born August 21, 1928 in San Saba county to Carl and Lily Shipp. She moved to San Angelo, graduated from San Angelo High School, married and had two daughters, Cindy and Pam. In 1968, Peggy met and married her beloved soul mate, Sam Gainer to whom she was married until his death in 2005. Peggy served as Sam's business manager as a family practice physician until his retirement from Shannon Clinic in 1991. She continued to volunteer at Shannon hospital into her 80's and was actively involved as a member of First United Methodist Church, Cheers Sunday School and Community Health Club until the shutdowns of 2020.
Peggy was a great host, entertainer and chef, world traveler, and loved to say she had traveled to every continent in the world except Antarctica. Peggy is survived by her daughter Pam Hengst and husband Cal of San Angelo, and her late spouse's children, Randy Gainer and wife Johanna, Paul Gainer and wife Lindsey, Beth Kristjanson and Mark Kristjanson, and David Gainer, and was preceded in death by her daughter Cindy Carpenter. Also surviving her are 11 grandchildren, Ted and Rita Carson of San Antonio, Allie Devereaux of San Angelo, Noel and Brenna Hoff of Big Spring, Ashley Hoff of Las Vegas NV, Cal and Annie Hengst of Saint Louis MO, Andrea Gainer of Los Angeles, Maya and Tara Gainer of Seattle, and Cameron and Courtney Gainer of College Station, Andrew Sanchez of San Antonio, and many great-grand children. The family greatly appreciates the loving care given by the many kind caregivers at Sagecrest these past few months. Peggy was fond of saying, "We just need to do the very best with with what we've got!" And that she did… We love you Peggy and will miss you until next we meet again! 

There will be a viewing for Peggy on Sunday, September 12, 2021 from 12:00 to 5:00 PM at Harper Funeral Home. A funeral service will be held on Monday, September 13, 2021 at 1st United Methodist Church at 2:00 PM. A private graveside will be held at Lawnhaven Memorial Gardens. 

Family and friends may share online condolences at www.harper-funeralhome.com.
Viewing
Sunday, September 12, 2021
12:00PM - 5:00PM
Harper Funeral Home 
2606 Southland Boulevard 
San Angelo, TX 76904
Funeral Service
Monday, September 13, 2021
2:00PM
First United Methodist Church 
37 E. Beauregard Ave. 
San Angelo, TX 76903
Final Resting Place
Lawnhaven Memorial Gardens 
4989 FM Highway 1223 
San Angelo, TX 76905
Write Your Tribute