Dates

Dec 11, 2012 Jul 28, 2021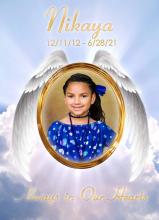 Nikaya Raelynn Ortiz, 8, passed away Monday, June 28, 2021, in Big Lake.

Public viewing will be from 2:00 PM un 6:00 PM Thursday, July 1, 2021, at First Baptist Church of Big Lake, 510 E. 7th St., Big Lake, Tx. 76932, a balloon release will be at 7:00 PM Thursday, July 1, 2021, at James H. Bird Memorial Stadium in Big Lake, and from 9:00 AM until 8:00 PM Friday, July 2, 2021, at Robert Massie Riverside Chapel. Funeral Services will be at 10:00 AM Saturday, July 3, 2021, at Robert Massie Riverside Chapel with Pastor Todd Nelson, pastor of Christian Faith Center, officiating. Burial will follow at Fairmount Cemetery under the direction of Robert Massie Funeral Home.

Miss Ortiz was born December 11, 2012 in San Angelo. Nikaya was a resident of Big Lake. She had just finished 2nd grade at Reagan County Elementary School. Nikaya attended First Baptist Church Big Lake. She was a very athletic girl and loved to play volleyball, run track but her favorites were playing soccer and tennis. Nikaya will be remembered for her Big Smile, it would light up a room. She had a big personality for such a little body. Nikaya loved being with family and friends. The family will never be alone because she will be looking down on them.

Survivors include her mother, Alexus Barajas; her sister, Mallory Ortiz; her dad, Mauro Ortiz, her father, Preston Arteaga; her grandparents, Nancy Cortez and David "Papaw" Valenzuela, Abel Barajas, Augustian and Dora Ortiz, Jesus and Isabel DeLeon, Art and Maria Arteaga; great grandparents, MaryLou Cortez, Noe Cortez, Mauro and Belia Bedoya, Maria and Porfirio Ortiz; aunts and uncles, Abel Anthony Barajas, Issahia Valenzuela, Dravon Valenzuela, Zulibeth and Fabian Aguirre, Ashley and Ebony DeLeon, Justin Ortiz, Chelsey DeLeon, Jacqueline and Jeff Aguero, and Art Arteaga; cousins, John and Serena Ortiz, Lilliana and Madelin Cortez, Rendon and Ryan Cortez, Cataleya Reyes, Jonathan and Nadja Gallegos, Deandria Goodloe, Nivea Goodloe, Jacobi Goodloe, Cody and Tristian Ortiz, Nayana Torres, Mackenzy Cadena, Madyson Cadena, and Ariella Aguirre; special extended family, Carlo Santos and Susan Cortez, Bianca Cortez, Ray Byford, Davy and Mimi Cortez, Rosie and Nacho Ortiz, Renee and Elva Valenzuela, Angie and BJ Goodloe, Veronica Bedoya, Juanita Bedoya, Jessica Hunter, and Ofelia Ortiz; many more cousins and friends. Nikaya was preceded in death by two cousins, Anthony Ortiz and Olivia Mendoza; and a her great-great grandma, Sara Reyes.

The family would like to thank the community of Big Lake for their love and support during this difficult time. To her special friends, Brantley, Faith, Maddie, Presley, Tinley, Elisa, and Kynlee, know she will be with you always.
To send flowers to the family or plant a tree in memory of Nikaya Raelynn Ortiz, please visit our floral store.
PUBLIC VIEWING
Thursday
July 1, 2021
2:00 PM to 6:00 PM
First Baptist Church Big Lake
510 E. 7th Street
Big Lake, TX 76932
---
PUBLIC VIEWING
Friday
July 2, 2021
9:00 AM to 8:00 PM
Robert Massie Riverside Chapel
402 Rio Concho Dr.
San Angelo, TX 76903
---
FUNERAL SERVICE
Saturday
July 3, 2021
10:00 AM
Robert Massie Riverside Chapel
402 Rio Concho Dr.
San Angelo, TX 76903
Write Your Tribute