Dates

May 22, 1927 Jul 25, 2021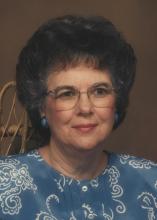 Ester Dykes Behrend Murdock, 94, of San Angelo, went to be with the Lord, on July 25, 2021.

Ester was born in San Angelo, to J.I. and Ernestine Dykes in 1927. Ester attended San Angelo High School and San Angelo College. Ester was active member of the First Presbyterian Church, Trinity Lutheran Church and The Heights Church, all of San Angelo.

She is survived by her husband, Bill Murdock of San Angelo; daughter, Linda Agent of Bronte; son, Doug Lapham and wife Hilaire of Overland Park, Kansas; son, David Behrend and wife Antonia of San Angelo; son, Mark Behrend of Redwood City, California; son, Dwight Murdock and wife Pam of Weatherford, Texas, and son Bill Murdock, Jr. and wife Cindy of South Dakota; 10 grandchildren and 6 great-grandchildren.

She is preceded by her sisters, Birdie Stevenson and Laura O'Neal, and her husbands, Darwin Lapham, and Eric Behrend; son-in-law, Roy Agent; and granddaughter, Melissa Russell,

Public viewing will be from 12:00 PM until 8:00 PM Thursday, July 29, 2021, and from 9:00 AM until 8:00 PM, family will receive friends from 5:00 PM until 7:00 PM, Friday, July 30, 2021, at Robert Massie Funeral Home. Funeral services will be at 10:00 AM Saturday, July 31, 2021, at The Heights Church with Dr. James A. Miller, officiating. Burial will follow at Lawnhaven Memorial Gardens.

Memorials may be made to Concho Valley PAWS, 3134 N US Highway 67, San Angelo, Texas 76905.
To send flowers to the family or plant a tree in memory of Ester Dykes Behrend Murdock, please visit our floral store.
Write Your Tribute