Dates

Oct 17, 1946 Jul 14, 2021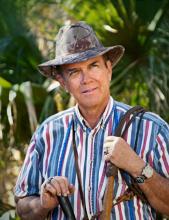 Kenneth Charles Landon, 74, of San Angelo passed away on Wednesday, July 14, 2021, at his home. Ken was born in San Angelo on October 17, 1946 to Kenneth and lneta Landon.

Ken is preceded in death by his father Kenneth Miller Landon; his mother lneta Ruth Morris and his brother Ronald Gerri Landon.

Ken was the Director of the International Waterlily Collection, a San Angelo City Parks Department employee, and a local pyrotechnician of numerous firework shows in the surrounding area, including the POPS concert and the annual 4th of July show at Lake Nasworthy.

Ken's passions in life were waterlilies and his dog, Sparky. His love for waterlilies began at a very young age and grew into a collection that he was proud to share with the world. He took great pride in bringing joy and smiles to people and was able to do this through the Waterlily Collection, amongst many other ways. Sparky was the light in Ken's life that made him happy.

Ken was the most generous and loving person to everyone. If he could do something for someone to make their day just a little brighter, he did it. He always wanted everyone to "just be happy". He lived a very full life of great achievements and left behind many legacies.

Ken was a dear friend to so many who loved him very much. He didn't have any children of his own, but he became a father figure to so many more than he probably could have ever imagined and considered them all his God given children.

There are so many heartfelt words and ways to describe Kenneth Landon and what he meant to everyone, but none of them would honestly do him justice. HE WAS EVERYTHING TO EVERYONE in some way.

Visitation will be held from 3:00 PM to 7:00 PM Wednesday, July 21, 2021, at Robert Massie Riverside Chapel. Funeral service will be held at 10:00 AM Thursday, July 22, 2021 at St. Paul Presbyterian Church with Rev. Tim Davenport-Herbst, pastor, officiating. Please join us for Coffee, Juice, Donuts and a stroll through the Waterlily Collection from 8:30 AM until 9:30 AM, prior to the service at the Waterlily Ponds at Civic League Park across the street from the church. Burial will follow at Lawnhaven Memorial Gardens under the direction of Robert Massie Funeral Home.

In lieu of flowers please consider making a donation to the San Angelo Garden Club, 1701 Christoval Road, San Angelo, Texas 76903, West Texas Rehab, 3001 S. Jackson, San Angelo, Texas 76904, Humane Society of Tom Green County, 3142 N US Highway 67, San Angelo, Texas 76905, San Angelo Area Foundation, 221 South Irving St., San Angelo, Texas 76903 or any charity of your choice in Ken's name.
To send flowers to the family or plant a tree in memory of Kenneth Charles Landon, please visit our floral store.
San Angelo LIVE! published a tribute to Landon, including one of his final interviews on camera. Read and watch it here.
---
VISITATION
Wednesday
July 21, 2021
3:00 PM to 7:00 PM
Robert Massie Riverside Chapel
402 Rio Concho Dr.
San Angelo, TX 76903
---
OTHER
Thursday
July 22, 2021
8:30 AM to 9:30 AM
The International Waterlily Collection
---
FUNERAL SERVICE
Thursday
July 22, 2021
10:00 AM
St. Paul Presbyterian Church
11 N. Park Street
San Angelo, TX 76901
Write Your Tribute