Dates

Oct 15, 1932 Jul 12, 2021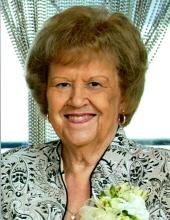 Mary Joanna (Jo) Browning Hafer of San Angelo, Texas, gently passed away after a lengthy illness on July 12, 2021. She was surrounded by her husband and daughters. Jo was born on October 15, 1932, to Walter and Winnifred (Winnie) Asa Newton Browning in Brady, Texas. She was the fifth of six children and was raised outside the rural community of Doole where her family farmed and ranched. Her great-great grandparents, John and Verena Thomas, along with their four children, migrated from Zeglingen, Switzerland through Germany and arrived at Galveston on March 12, 1844. The family settled in Refugio County. A fact she recalled her mother telling her when she was a young girl making her a fifth generation Texan. 
She attended elementary school in Doole and went to middle and high school in Melvin. She graduated from Melvin High School as class valedictorian in 1950. After graduation, she moved to San Angelo and attended San Angelo Business College. Upon college graduation, she was employed with Trimble and Batjer Insurance Company until 1953 when she married Charles Lee Hafer, who she called Harvey, and became a homemaker. In 1970, she returned to the insurance business with Blue Cross and Blue Shield of San Angelo. When her husband took an advancement with West Texas Utilities in 1973, they relocated to Stamford, and she transferred to Blue Cross and Blue Shield of Abilene. She left the insurance business when they returned to San Angelo in 1978. Jo was a long-time member of the First Baptist Church of San Angelo and an active member of the Tom Green County Republican Women's Club. Through the years, she always enjoyed Doole Community reunions, Browning/Pate family reunions, and Melvin High School reunions. 
There are many things her family will always fondly remember about Jo. Her weekly standing Friday afternoon beauty shop appointment was top priority, and she never missed one. And most Friday nights you could find Jo and Charles at one of the local Mexican food restaurants enjoying a night out and Jo completing her meal grabbing peppermints on the way out of the restaurant. She was an avid sport fan and always rooted for the Dallas Cowboys, Dallas Mavericks, and Texas Rangers. Their games were always a part of family holiday gatherings and often took precedence over the meal itself. She was famous for always wearing her sunglasses whether they were needed or not, and that included wearing them indoors. There are many family photos taken over the years with her proudly wearing her sunglasses, and usually they were not needed. Her hoop earrings were always the jewelry selection of choice, and they could always be found in her purse. She was known to carry a hefty amount of cash in her billfold which she claimed necessary in case she ever wanted to run away. It's believed to really be there in case she wanted to slip a bill or two to her one of her grandchildren. She was a very proud landowner with Charles and took great joy in her Black Angus cattle and the rural surroundings outside of Doole. 
Jo was preceded in passing by her parents, her two sisters, Dorothy Rabon and Lucille Riley, and her two brothers, Douglas, and Briggs Browning. She is survived by her husband, their three children, Dwayne Hafer and his wife Ramona of San Antonio, Denise Brodnax and her husband Barry of Wall, and Misti McBryde and her husband Gared of Stratford, five grandchildren, who affectionately called her G-Jo, Sara Hafer Fitzgerald and her husband Robert of Ft Worth, Matthew Brodnax of San Angelo, Jack McBryde of Midland, Walker, and Ty McBryde of Stratford, and one great grandchild, Joanna Joyce Fitzgerald. In addition, she is survived by her sister, Hazelle Blankenship and her husband James of Abilene, along with many nieces and nephews. 
The family wishes to thank Dr. Raj Cheruku and the Shannon Oncology Department staff, along with the other doctors, nurses, and caregivers who vigilantly provided care throughout her illness along with a heartfelt thanks to the West Texas Rehabilitation Center-Hospice caregivers who provided a gentle hand of kindness and comfort in her final days. 
A visitation is planned for Saturday morning from 10:30 to 12:00, July 17, 2021 at Harper Funeral Home located at 2600 Southland Boulevard in San Angelo. A gathering for internment will be conducted Saturday afternoon at 2:30 at the Stacy Cemetery outside of Doole. In lieu of flowers, donations may be made in her name to the West Texas Rehabilitation Center-Hospice of San Angelo, 1933 University Avenue, San Angelo, Texas 76904 or the First Baptist Church of San Angelo, 37 East Harris Street, San Angelo, Texas 76903.
Visitation
Saturday, July 17, 2021
10:30AM - 12:00PM
Harper Funeral Home 
2606 Southland Boulevard 
San Angelo, TX 76904
Graveside
Saturday, July 17, 2021
2:30PM
Stacy Cemetery 
6 miles north of Doole, Texas 
Doole, Texas 76888
Write Your Tribute