Dates

Jul 14, 1957 Jul 12, 2021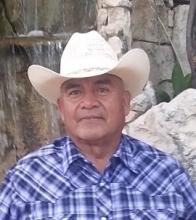 J. B. Medina, 63, passed away Monday, July 12, 2021, at his home surrounded by family.

Public viewing will be from 11:00 AM until 2:00 PM with the Rosary being prayed at 6:00 PM Friday, July 16, 2021, at Robert Massie Riverside Chapel. Mass will be at 10:00 AM Saturday, July 17, 2021, at St. Joseph Catholic Church with Father Juan Lopez Cortez, officiating. Burial will follow at Calvary Catholic Cemetery under the direction of Robert Massie Funeral Home.

Mr. Medina was born July 14, 1957 in Tierra Nueva, San Luis Potosi, Mexico to Xavier and Maria Medina. He was a veteran of the Mexican Army and served as a Mexican Police officer. He came to the United States at the age of 14. He married the love of his life Sara Hernandez on August 25, 1981 in San Angelo. He has been a resident of San Angelo for 49 years. J. B. worked for Nabors Company of 33 years retiring in 2019. He was hard working, humble man. He was a member of St. Joseph Catholic Church. He was a devoted son, brother, husband, father, #1 grandfather, and friend. He was friendly, he had a unique way of making someone he just met feel like they were friends forever. He loved playing the guitar, accordion and singing. He was always laughing and joking around. He fought the good fight, and he will be loved and missed by his family.

Survivors include his wife, Sara Hernandez Medina; three daughters, Maria G. Salas of the home, Elizabeth Toscano of San Angelo, and Rosamarie Rodriguez and husband Elodio of Christoval; a son, Joe Ventura Medina of San Angelo; nine grandchildren, Juan, Jr., Noe, Grace, Gerardo, Jr., Kimberly, Maria, Penelope, Cristian, and Zavian Bentura; sibling, Gabriel Medina, Maria Medina, Efiguenia Medina, Olimpia Medina, Jose Martinez Medina, and Francesca Medina. He was preceded in death by a brother, Magdaleno Medina.
To send flowers to the family or plant a tree in memory of J. B. Martinez Medina, please visit our floral store.
PUBLIC VIEWING
Friday
July 16, 2021
11:00 AM to 2:00 PM
Robert Massie Riverside Chapel
402 Rio Concho Dr.
San Angelo, TX 76903
---
ROSARY
Friday
July 16, 2021
6:00 PM
Robert Massie Riverside Chapel
402 Rio Concho Dr.
San Angelo, TX 76903
---
MASS
Saturday
July 17, 2021
10:00 AM to 11:00 AM
St. Joseph Catholic Church
301 W. 17th. Street
San Angelo, TX 76903
Write Your Tribute