Dates

Sep 25, 1989 Jul 12, 2021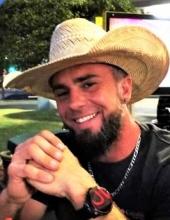 Grady Worth Reid, 31, of Christoval went to be with the Lord on Monday, July 12, 2021, in Corpus Christi, Texas. Grady was born September 25, 1989, in Brownwood Texas to Monty Jack and Brigette Ann Franke Reid. He grew up in Bangs and Christoval, Texas going all through elementary and High School in Christoval and moved back to Bangs and graduated from Bangs High School. After high school, Grady attended TSTC in Waco, Texas and received his certification as a diesel mechanic for heavy machinery. Grady worked most of his life as a heavy Equipment Diesel Mechanic and Crusher Plant Operator, most currently working as foreman for Solid Rock Crushing, LLC. In his spare time, he enjoyed many activities, including wake boarding, dove hunting, riding dirt bikes, listening to music, hanging out on the river in Christoval, tinkering and fixing anything mechanical (even if it was not broken,) doing donuts in his mom's car, antagonizing his baby sister, and was a very skilled artist. He was devoted to his family and friends and loved being with them and joking around with everyone. Grady was a very generous, selfless person with a big heart and loved Jesus. His magnanimous personality and his generosity will remain in our hearts forever and we will dearly miss him! He was preceded in death by his Grandparents, John Ricker, Wendell Franke and Betty and Grady Reid and one Uncle, Brent Reid. Grady is survived by his parents, Brigette and Ross Schroeder, of Christoval and Monty Reid, of Brownwood; his sister, Preslie Reid, of San Angelo; his grandmother, JoAnn Ricker, of Brownwood; his stepsister, Megan Siepak, of New York City, N.Y; and numerous aunts, uncles and cousins, other family members and close friends. The family will receive friends for visitation from 6:00 P.M. to 8:00 P.M., Sunday, July 18 at Harper Funeral Home. The Celebration of Grady's life will be 1:00 P.m., Monday, July 19, 2021, at Christoval Baptist Church with Pastor Mike Dixon officiating. 
Family and friends may share condolences and sign the online register book at 
www.harper-funeralhome.com.
Visitation
Sunday, July 18, 2021
6:00PM - 8:00PM
Harper Funeral Home 
2606 Southland Boulevard 
San Angelo, TX 76904
Memorial Service
Monday, July 19, 2021
1:00PM
Christoval Baptist Church 
20085 Toenail Trail 
Christoval, Texas 76935
Write Your Tribute