Dates

May 05, 1930 Jul 06, 2021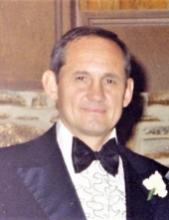 G.W. Walker was born May 5th, 1930 to Clabe and Cleora Walker in Junction, Texas. He passed from this earth on July 6th, 2021 at the age of 91 in San Angelo, Texas. 
G grew up in Junction along with an older step brother and a younger sister. The rumor is that G was the favorite child and according to his mother, he never did anything wrong except jump off the Llano River Bridge. G helped his dad in his mechanic's garage and learned to fly airplanes. While in high school G excelled in sports. His senior year he won State in the pole vault and ran on a relay team which helped the team win state. His pole vault set the record for the team's division for many years. G coached the young man who broke that record. He graduated high school in 1948.  
While living in Junction, he got some metal in his arm while working with his dad. He went to the local clinic where he met Lilburn Goodman. Later that day, Lilburn was walking home from work and G drove past her, stopped and picked her up. That was the beginning of their love story. They married February 24, 1951, even though G's mom was afraid G wouldn't go to college if he married. During this time G was offered track scholarships to Old Miss and to Schreiner College in Kerrville. He decided to stay closer to home and went to Schreiner College where he ran track. G's mother was known to come to see them quite often bearing gifts of food and money to help them make ends meet. 
G went on to Southwest Texas State College (Texas State University) where he continued to excel in both track and football. Todd and Tanis were born while they lived in San Marcos while G finished his B.S. degree in education and went on to obtain a master's degree in education.  
Throughout G's life, he was a lifeguard, carpenter, career teacher, coach, junior high principal, high school principal, assistant superintendent (34 years in public education), worked at a GED program and drove a train. He had many wonderful talents and was very resourceful. He could fix anything that broke whether it was a car, a water heater, an airplane engine or a toy. He lived life conservatively and saved what he could for a rainy day. 
He had many passions…sports, flying, golfing, hunting, riding motorcycles (Harleys of course), playing with grandkids and great grandkids. He loved to support kids in their golfing endeavors. He made friends easily and spent many a Saturday working with Bob Thomas on their property in Georgetown building pens for livestock, herding goats and working livestock. Many rounds of golf were played with his dear golfing buddies. Many hours were spent with his dear friend Mitch Freeman working on projects and drinking coffee while they pretended to hunt. 
The last several years were hard on G due to some health issues, Covid isolation and devotedly caring for Lilburn. He was a faithful husband and a devoted Christian. He was an elder at the Georgetown Church of Christ for many years. 
Preceding G in death were his parents, step brother and sister. He is survived by his wife, Lilburn, of San Angelo, son Todd (Jackie) of Abilene, daughter, Tanis (Allen), grandchildren, Cooper Price (D'Lynn) of San Angelo, Michael Walker (Kristen) of Longview, Mark Walker of Longview, LaBecca Buselli (Nick) of San Angelo, great grandchildren, Seth and Sydney Price of San Angelo, Michaela, Madelyn and Bear Walker Walker of Longview, and nephews Edward Harris of Junction, Clint Goodman of Austin and Boyd Goodman of Spring. 

Honorary pallbearers are Bill Edmiston, Cooper Price, Michael Walker, Mark Walker, Seth Price, Nick Buselli and Mitch Freeman and the late Bob Thomas. 
Services will be Friday July 9 with Tommy King and Mitch Freemen officiating. In lieu of flowers, memorials may be made to the American Cancer Society or Rust Street Ministries, 803 Rust St, San Angelo, TX 76903.
Funeral Service
Friday, July 09, 2021
2:00PM
Johnson Street Church of Christ 
2200 Johnson Avenue 
San Angelo, TX 76904
Write Your Tribute