Dates

Sep 23, 1935 Jul 04, 2021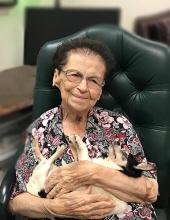 Mary Sue Mallow Hasty, left this earthly life on one of her favorite holidays, July 4, 2021, to join those who had gone before her. She joins her husband of 65 years, Richard C. Hasty; her mother and dad, Genevieve and Millard Mallow; Sister, Frances Nagiler and nephew Guy Owen Nagiler, Son in Law, Ricky Fowler, grandson, Cody Wayne Porter; her granddaughter, Allison Bozeman, many dear friends and extended family members.  

Mary Sue was born on September 23, 1935 in Guthrie, Oklahoma. She married Richard Creed Hasty, on August 4, 1953, and from that union came three daughters, Vennessa Hasty, Vickie Fowler and Valerie Priess, all of San Angelo.  

Mary Sue graduated from Lake View High School in 1953. She went on to Angelo State University after her girls were older and graduated in 1984 with two Master's degrees. She began her career in Pecos, Texas with the Soil Conservation District. She moved back to San Angelo and worked at San Angelo State School in Carlsbad, Texas. Mary Sue then began her career in education, teaching at Lincoln Junior High School and Central High School, mentoring students as a counselor at Central as well. Her last year with SAISD was spent serving as Principal at PAYS alternative school. 

After retirement, she went to work at Premier Nationwide Lending, now Mortgage Financial Services, located in Crockett National Bank, as office manager. She worked for many years alongside her daughters and other family members and was the smiling face that greeted all who entered that office. 

Mary Sue is survived by her daughters, Vennessa Hasty, Vickie Fowler and Valerie Priess and husband Skip. She is also survived by her grandchildren: Courtnie and John Wood, Erik and Cara Fowler, Erika Jones (all of San Angelo) and Lindsey and John Biggs of Boerne, Texas. Further carrying on her legacy are her great grandkids: D.J. Wood and Elizabeth of Lubbock, J. T. Jones, Madison Jones, Noah Fowler and Levi Fowler of San Angelo and Artemis Bozeman and Brian Biggs of Boerne, Tx. and one Great Great Grandaughter, Jessica Wood, of Lubbock. Also left to cherish her memory is her longtime friend from childhood, Elizabeth LeGrande of Meridian, Oklahoma; her dear friends, Lou, and Dr. Noland Harvey; friends, Noe and Rosemary Acosta and family, and Mac McDonald and family; Troy Brown and her dear friends from Crockett National Bank and Mortgage Financial Services. 

Mary Sue has requested that we have no formal funeral services at this time, only a private gathering of friends and family which will be held at a later date. 

Family and friends may share condolences and sign the online register book at 
www.harper-funeralhome.com. 
Write Your Tribute