Dates

Sep 09, 1922 Jul 04, 2021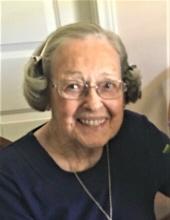 Frances Geraldine (Gerry) Cunningham Lummus, daughter of Fanny Lewis Bell and Harvey Carroll Cunningham, was born in 1922 in Pearsall, Texas. She was married to James Hoye Lummus for 66 years until his death on January 1, 2013.  
Gerry was an active member of Emmanuel Episcopal Church, participating in leadership and membership roles in Sunday School, the Altar Guild, the Vestry, St. Catherine's Guild, and the Tuesday Ladies service group, among many others. For many years, she was also a faithful volunteer for San Angelo's Meals for the Elderly and the San Angelo Library. Gerry was an avid bridge player and supporter of the arts in San Angelo, especially the San Angelo Symphony. 
Preparing a place for us are her sister, Lenora Hicks and her husband Don; her brother Harvey Carroll Cunningham, Jr.; and her brother Phillip Cunningham.  
Gerry is survived by her daughter, Nickie Lummus Weaver and her children, Chris Weaver and Carroll Catherine Bottoms; her son Jimmie D. Lummus, his wife Sara Lummus and their sons Jay Lummus and Jon Lummus and his wife Samantha; her sister-in-law Connie Cunningham; brother Wiley Bell Cunningham and wife Rae Emily; brother Howard William Cunningham and wife Joyce; and her sister Barbara Jean Woolsey. Gerry is also survived by her great-grandchildren Carson Bottoms and Carter Lummus, as well as many nieces and nephews.  
The Lummus family extends our deepest thanks to the San Angelo Hospice Association, Visiting Angels, and Dr. Peter Chang for their expertise, loving care, and deep kindness during Gerry's final journey. Services will be held on Friday, July 9, 2021, at 11:00 am at Emmanuel Episcopal Church at 3 South Randolph, San Angelo, Texas. 
In lieu of flowers, please consider a donation to the Emmanuel Episcopal Church Organ Fund, Meals for the Elderly, or the Alzheimer's Association. 
Family and friends may share condolences and sign the online register book at www.harper-funeralhome.com. 
Write Your Tribute