Dates

Jan 12, 1951 Jul 03, 2021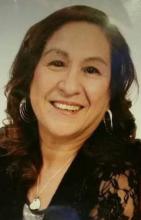 Emma Cardenas, 70, passed away Saturday, July 3, 2021, in Mereta, Texas.

Public viewing will be from 1:00 PM until 8:00 PM and the rosary will be prayed at 6:00 PM Tuesday, July 13, 2021, at Robert Massie Riverside Chapel. Mass will be at 10:00 AM Wednesday, July 14, 2021, at St. Mary's Catholic Church, with Father Joey Faylona, officiating. Burial will follow at Delta Cemetery under the direction of Robert Massie Funeral Home.

Mrs. Cardenas was born on January 12, 1951 in San Angelo where she has been a lifelong resident. Emma was a supervisor at San Angelo State School for 20 years retiring in 2015. She was a member of St. Mary's Catholic church. Emma loved gambling, shopping, and going to garage sales. She loved spending time with family and friends. The family would like to express their thanks to Hospice of San Angelo and their staff including Debby, Brandy, Diana, and Becca for their loving care, and a special thank you to Manuel and Rosa Martinez for being there for the family during this difficult time.

Survivors include six daughters, Elizabeth Cardenas and husband Derrick Hill of Smithville, Blossom Zapata and husband Hector of Bastrop, Veronica Gonzalez, Norma Jean Sanchez both of San Angelo, Jessica Torres and husband David of Austin, and Maricela Martinez and husband Anthony of Mereta; two sons, Ricky Cardenas and wife Laura of San Angelo, and Adam Cardenas and wife Liza of Ft. Worth; 32 grandchildren, and 17 great grandchildren. Emma was preceded in death by her parents, Felipe and Mary Cardenas; a son, Guadalupe Cardenas; two brothers, Felipe Cardenas, and Freddy Cardenas; two sisters, Gloria Gonzales, and Julia Sercos; two granddaughters, Brianna Garza, and Serena Garza; a grandson, Anthony Ethan Martinez; and a great grandson, Adrian Munoz.
To send flowers to the family or plant a tree in memory of Emma Cardenas, please visit our floral store.
PUBLIC VIEWING
Tuesday
July 13, 2021
1:00 PM to 8:00 PM
Robert Massie Riverside Chapel
402 Rio Concho Dr.
San Angelo, TX 76903
---
ROSARY
Tuesday
July 13, 2021
6:00 PM
Robert Massie Riverside Chapel
402 Rio Concho Dr.
San Angelo, TX 76903
MASS
Wednesday
July 14, 2021
10:00 AM to 11:00 AM
St. Mary's Catholic Church
7 W. Ave. N
San Angelo, TX 76903
Write Your Tribute