Dates

May 27, 1950 Jun 30, 2021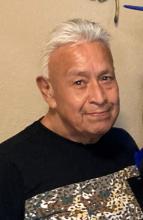 William "Willie" Duran Camarillo, age 71 of San Angelo entered the gates of Heaven on June 30, 2021 at his home.

Public viewing will be Thursday, July 8 from 9:00 AM until 8:00 PM. A prayer service will be held on Thursday, July 8 at 6:00 PM in the Robert Massie Riverside Chapel. The funeral service will be held on Friday, July 9 at 10:00 AM in the Robert Massie Riverside Chapel.

Willie was born May 27, 1950 in San Angelo to Clemente and Librada Duran Camarillo.

He married the love of is life, Dolores Garivay on May 28, 1981 in San Angelo.
The couple had four children, Cory, Billy, Benson and Brandie.

Willie owned and operated Willie's Body Shop for over thirty years. He prided himself in his work and was always a fair business man, helping others as much as he could. He worked hard to build his business and care for his family.

Willie attended school in Wall and was a lifetime supporter of Wall Athletic Teams. He also enjoyed football. He might not have had a favorite team but he did have favorite players and followed them throughout the seasons.

He attended Christian Faith Center and was a man strong in his faith. Although he loved cars and everything that went along with them, there was something he absolutely loved more and was passionate about, and that was his family. Willie was a devoted husband and father. He was appreciative of what he had and knew the importance of never taking time and family for granted. If anything could brighten his smile, it was his grandchildren, he adored them and cherished time spent with them.

Willie was preceded in death by his parents; and by two sisters, Mary Ellen Zapata and Nancy Ynojosa.

He is lovingly survived by his wife of forty years, Dolores; his children Cory Camarillo, Billy Camarillo and his wife Stephanie, Benson Camarillo, and Brandie Camarillo all of San Angelo; his siblings, Sandra Craig, Joanna Camarillo, Daniel Camarillo, Clemente Camarillo, David Camarillo and his wife Mary, and Romero Camarillo and his wife Alma; and by his precious grandchildren, Iysis Camarillo, Brianna Camarillo, Kylie Camarillo, Ziva Novack. Ryland Camarillo and William Mitchel Camarillo.

 
To send flowers to the family or plant a tree in memory of William Duran Camarillo, please visit our floral store.
PUBLIC VIEWING
Thursday
July 8, 2021
10:00 AM to 8:00 PM
Robert Massie Funeral Home
402 Rio Concho Dr.
San Angelo, TX 76903
---
PRAYER SERVICE
Thursday
July 8, 2021
6:00 PM
Robert Massie Riverside Chapel
402 Rio Concho Dr.
San Angelo, TX 76903
---
FUNERAL SERVICE
Friday
July 9, 2021
10:00 AM
Robert Massie Riverside Chapel
402 Rio Concho Dr.
San Angelo, TX 76903
Write Your Tribute