Dates

Mar 03, 1944 Jun 29, 2021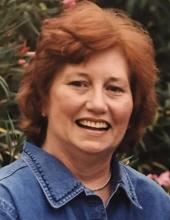 Helen Kay Thompson, 77, passed away peacefully with her three girls by her side on Tuesday, June 29, 2021. Helen Kay (Tubbs) Thompson was the middle daughter of Enoch Vaughn ("Mutt") and LaVerne Tubbs. She was born March 3, 1944, in San Angelo, Texas. Helen Kay attended Angelo Catholic School and began her collegiate career at Texas Tech University. She transferred to the University of Texas at Arlington, and it was during that time that she met Harold B. Thompson, Jr. They were married on November 4, 1972. Together, Hal and Helen Kay raised three daughters, owned and operated Comet Cleaners for 30 years, and volunteered for several local organizations, especially those in which their daughters participated. 

Helen adored all things artistic and creative. She had an incredible singing voice and could play the most difficult pieces of Bach and Chopin on the piano with grace and ease. From sewing costumes for school musicals, crocheting and knitting our favorite blankets, decorating cakes by design for birthdays and special occasions, she was a woman of many talents. It was not uncommon to show up at her house to find one or more rooms completely remodeled. 

She adored the holidays and made Christmas, her favorite holiday, extra special for her family. Helen Kay was an avid Rangers fan and rarely missed a game. Beneath her southern charm etiquette was a spitfire of a woman with a quick wit and an incredible sense of humor. 

Helen Kay devoted herself to her girls: Christina, Megan and Cathryn. Her confidence in their abilities and potential was palpable, and her enduring support continued to bless her five beloved grandchildren who fondly referred to her as "Grams." 

She was preceded in death by her husband, Hal; parents, Mutt and LaVerne Tubbs; father-in-law Harold B. Thompson, Sr.; brothers-in-law Gene Lay and John Thompson; and niece Kimberly Lay. She is survived by Christina Kay Thompson and sons Cooper and Carson Collier; Megan Ann Mercer and husband Curtis and son Liam; Cathryn Vaughne Sanders and husband Joe and children Harper and Preston; sisters Sondra Lay, and Micki Ducote and husband Bob, as well as numerous nieces and nephews.  

Services include a Rosary on Thursday, July 1st at 6:00pm at Harper Funeral Home, with a Funeral Mass Friday, July 2nd at 2:00pm at Sacred Heart Cathedral. 

The family would like to thank Kindred Hospice, especially Sarai and Sam, for their gracious care and compassion. 

In lieu of flowers, the family requests donations to Helen Kay's favorite charity, St. Jude's Children's Research Hospital.
Rosary
Thursday, July 01, 2021
6:00PM
Harper Funeral Home  
2606 Southland Boulevard 
San Angelo, TX 76904
Funeral Mass
Friday, July 02, 2021
2:00PM
Sacred Heart Cathedral  
20 E Beauregard Ave 
San Angelo, TX 76903
Write Your Tribute