Dates

Mar 08, 1948 Jun 25, 2021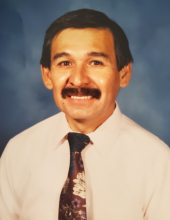 Alexander (Alex) Valverde (1948-2021). Alex lost his fight against Cancer on June 25, 2021 because his opponent didn't fight quite fair. He gave it his best, but his weakened body could not muster up the strength to get up and continue. Although he defeated breast cancer in the first attack in 2003, the second one was too aggressive. Alex would want his case to remind other men to learn the signs and consult a doctor early. 
Alex was born on March 8, 1948 in Eden, TX, to Willie and Frances Valverde. He graduated from Eden High School. He earned an undergraduate degree in Spanish and history from Angelo State University. He was a loyal Rams basketball and baseball fan, attending games until early last year when Covid ended them. He continued to be an enthusiastic football fan, cheering for the Texas Longhorns and Dallas Cowboys as well as several other NFL and college teams. 
Alex continued his education and earned a Master's Degree in Guidance and Counseling from Angelo State University in 1976 while teaching at Ozona ISD. After moving to San Angelo, he taught at Edison Jr High until he started his role as a counselor at several elementary schools, including Alta Loma, San Jacinto, and Travis. During the summers, he moved to Lubbock and started taking graduate classes. He made the decision to work on his Ed.D. which he completed in 1995 from Texas Tech University. Alex continued working as a school counselor until his retirement from SAISD. Then he went into private practice for several years before his final retirement. 
Alex joins his parents Willie and Frances Valverde and his grandparents Joe & Guadalupe Torres as well as other family members who welcome him home. 
Left to cherish his memory are daughter Alexis and partner Jesse Herrera Jr, granddaughter Serena Herrera, and mother of his daughter Gloria Duarte. His siblings include Willie Valverde and wife Dora, Minnie Hernandez and husband Dan, Nancy Ramirez and husband Jesse, and Armando Valverde and wife Sheila; and special uncle Joe Torres. He leaves behind numerous nieces and nephews.  
Pallbearers will be Eloy Garcia, Joe Torres, Jesse Herrera Jr, Albino Menchaca. 
Rosary will be on Sunday, June 27 at 6:00 p.m. at Harper Funeral. Funeral service will be held on Monday, June 28 at 10:00 a.m. at Holy Angels Church, San Angelo, TX. Graveside service will be at Fort McKavett Cemetery, Ft.McKavett, TX.
Rosary
Sunday, June 27, 2021
6:00PM
Harper Funeral Home  
2606 Southland Boulevard 
San Angelo, TX 76904
Funeral Mass
Monday, June 28, 2021
10:00AM
Holy Angels Catholic Church  
2309 A & M 
San Angelo, TX 76904
Write Your Tribute