Dates

Dec 30, 1953 Jun 19, 2021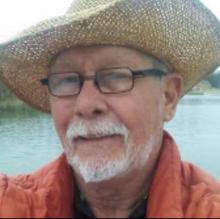 Stanley Joseph "Joe" Fortenberry, 67, of San Angelo, Texas, died peacefully at his residence on June 19, 2021.
A memorial service will be held on Friday, July 16th at 3:00 PM at Robert Massie Funeral Home.  Mr. Tony Tharp will officiate.  Arrangements are by Robert Massie Funeral Home.
Joe was born December 30, 1953, in Friona, Texas, to Stanley Thomas Fortenberry and Esther Charlene Fortenberry (Bundrant).
He married was married to Jennie Farmer from 1970-1990 and the couple raised two daughters during their marriage.  Joe had a successful career in sales in several different industries, including food services, signs, and lighting.
Joe was a talented painter and loved to fish and camp. Family was very important to him, and he looked forward to attending the family reunion every year. He was active in AA for over 22 years and had a passion for helping others in recovery.
He was preceded in death by his parents, and by his siblings, Clarice Ashmore, Lois "Rose" Jannarone and Stanley S. Fortenberry.
Joe is survived by his daughter, Jennie Jo Wilson and husband Michael; his daughter, Marilyn Payne; his grandchildren, Hailey Neville, Joshua Wilson, Emma Payne; by his siblings, Zoe Hawkins,
Mary Farmer, Sarah "Sally" Wren, Stan Fortenberry, Kim Sisk and John Fortenberry; and numerous nephews, nieces, great nephews and nieces and great, great nephews and nieces.
In lieu of flowers, donations can be made to the TTUHSC Willed Body Program, 3601 4th St. Stop 6528
Lubbock, Texas 79430 in memory of Stanley J. Fortenberry.
Please sign the online guest register at www.robertmassie.com. 
MEMORIAL SERVICE
Friday
July 16, 2021
3:00 PM
Robert Massie Riverside Chapel
402 Rio Concho Dr.
San Angelo, TX 76903
Write Your Tribute