Dates

Dec 15, 1969 Jun 18, 2021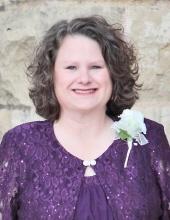 Angela Fay Ward Hunger, 51 years old, went to be with the Lord on June 18, 2021, after a brief illness, in San Angelo, Texas. 

Angela, known as Amy to her friends and family, was born on December 15, 1969, in Fort Rucker, Alabama, to Jonnye Faye Ward and Billy Earl Ward, Sr. When she was five years old, Amy moved with her family to San Angelo, Texas, where she spent the next 43 years. 

When she was 20 years old, Amy met her soulmate, Ed Hunger, in San Angelo. They were married on June 16, 1990, and spent the next 31 years together. Their marriage was blessed with three children. After Ed retired in 2017, they moved together to his family ranch in Junction, Texas. In October of 2020, Amy and Ed were blessed with their first grandchild, whom she absolutely adored.  

Amy had many hobbies. She was very creative and loved to learn new crafts. She especially enjoyed crocheting, gardening, cooking, and reading. She could get lost in a good book for hours. Amy also loved to travel and take camping trips. She and Ed took trips together to Colorado, New York, Jamaica, and cruises to Mexico. Amy loved to take care of the baby goats and lambs on the ranch, and loved to be outside with her pup, Bonnie-Bell. 

Amy loved babies and babysitting, and her greatest joy in life was being a mother. Her life revolved around her three children. Over the years, she attended countless sports events, school plays, scout outings, and music recitals. She loved holidays and worked to make them magical for her children. She was overjoyed when she became a Mimi to her granddaughter Ellie. 

Amy is preceded in death by her parents, Jonnye Faye Ward and Billy Earl Ward, Sr. 

Amy is survived by the love of her life, Ed Hunger, of Junction; a daughter, Katie Fry of San Angelo and husband Jonathan; son Kyler Hunger of Kerrville; son Kody Hunger of Austin; precious granddaughter Ellie Faye Fry of San Angelo; sister Debbie Ward of San Angelo; brother Billy Ward, Jr, of Eldorado; sister-in-law Mindy Ward of San Angelo; mother-in-law Pat Hunger of Junction; and numerous nieces and nephews, including Kristyn Ward-Marrs and husband Kelly of Irving, Dallas Ward and wife Megan of Colleyville, and Jacob Medina of Plano. 

A visitation will be held Tuesday, June 22, from 5:00pm to 7:00pm, at Harper Funeral Home in San Angelo. Services will be held Wednesday, June 23rd, at 10:00am, at Harper Funeral Home in San Angelo, followed by a graveside service at 2:00pm at Junction City Cemetery. 

In lieu of flowers, the family requests that donations be made to St. Jude's Children's Hospital, in memory of our beautiful mother.
Visitation
Tuesday, June 22, 2021
5:00PM - 7:00PM
Harper Funeral Home  
2606 Southland Boulevard 
San Angelo, TX 76904
Funeral Service
Wednesday, June 23, 2021
10:00AM
Harper Funeral Home  
2606 Southland Boulevard 
San Angelo, TX 76904
Graveside
Wednesday, June 23, 2021
2:00PM
Junction City Cemetery  
100-298 W. Rio Vista 
Junction, TX 76849
Write Your Tribute