Dates

Apr 17, 1948 Jun 17, 2021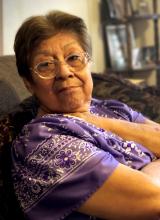 Rosa Maria Rico age 73, gained her angel wings Thursday, June 17, 2021, in San Angelo Texas.
Mrs. Rico was born April 17, 1948, in Acúna Coahuila Mexico, Rosa married Rosario A. Rico May 23, 1971, in Acúna Coahuila Mexico. Rosa lived in Big Lake Texas for 32 years where she began her life as a homemaker. After becoming ill, she moved to San Angelo in 2002 to be closer to her physicians. She was a member of Cristiana Maranatha Church where she loved to serve and praise God.

She is survived by her husband, Rosario A. Rico; her daughter, Rebecca Rico of San Angelo; her three sons, Amador Rico of San Angelo, Eusebio Rico Jr. and wife Christina of Big Lake, Alonzo Rico and wife Esther of San Angelo; her two sisters, Maria Elida Costilla and husband Miguel of Del Rio, and Maria Maricella Oviedo of San Antonio; her eight brothers, Florencio Oviedo and wife Teresa of Fort Worth, Raul Oviedo and wife Martha of Del Rio, Elias Oviedo of Floresville, Oscar Oviedo of Del Rio, Conrado Oviedo and wife Maria of Del Rio, Armando Oviedo and wife Guillermina of Del Rio, Jesus Oviedo and wife Yolanda of San Angelo, Fernando Oviedo and wife Leticia of Del Rio; her 10 grandchildren, Gabryella, Miranda, Josue, Antonio, Marissa, Maria, Valeria, Johnny, Eusebio III, and Gabriel; her six great grandchildren, Aryana, Antonio Jr., Vicente, Edgar, Abram, and Anahi; and too many other nieces and nephews to name . Rosa is processed in death by her parents, Florencio and Maria Oviedo, her niece, Diana Oviedo, her brother, Wencelado Oviedo, and her father-in-law, Augustine Rico.

Public viewing will be Wednesday, June 23, 2021, from 9:00 AM until 8:00 PM at Robert Massie Funeral Home. The funeral service will be 10:00 AM Thursday, June 24, 202,1 at Robert Massie Riverside Chapel with pastor Jose Flores of the Cristiana Maranatha Church, officiating. Burial will be to follow at Lawnhaven Memorial Gardens under the direction of Robert Massie Funeral Home.
To send flowers to the family or plant a tree in memory of Rosa Maria (Oviedo) Rico, please visit our floral store.
PUBLIC VIEWING
Wednesday
June 23, 2021
9:00 AM to 8:00 PM
Robert Massie Funeral Home
402 Rio Concho Dr.
San Angelo, TX 76903
FUNERAL SERVICE
Thursday
June 24, 2021
10:00 AM
Robert Massie Riverside Chapel
402 Rio Concho Dr.
San Angelo, TX 76903
Write Your Tribute