Dates

Sep 30, 1935 Jun 16, 2021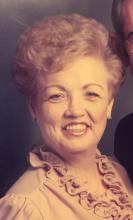 Linda Jane Davis, age 85, is now in the embrace of the loving arms of her Lord and Savior, Jesus Christ. She passed away Wednesday, June 16, 2021, in San Angelo, Texas.

Mrs. Davis was born the youngest of 10 children on September 30, 1935 on the family farm near Idalou. Jane has been a lifelong Baptist, accepting Christ as her Savior at age of nine, at Temple Baptist Church in Abilene. Jane married Edward R. Davis on August 7, 1952 in Abilene. He preceded her in death on January 10, 2017. She worked at M System Grocery Store, 1st National Bank, San Angelo National Bank retiring in 1988, she worked part time at 1st National Bank from 1996 to 2011. She was a member of Belmore Baptist Church where she sang in the choir.

Jane was a very unique and special individual. This very stubborn, red headed, loving, caring and beautiful lady never met a stranger. If anyone ever crossed path with her, regardless of/the place, or timing; heard the "Jesus Talk". Even if you were in a hurry, the one minute (hello, how are you?) could turn into an hour or two. One thing for sure, she knew your life story and more, before you even know what in the world happened to you!! Needless to say, she would pray with and for you, cry or laugh, whatever the case might be, in each individual's life. She 'encouraged' everybody, to follow the right path and walk a straight line, to try stay the course and to never stray too far away or else!! She will be missed dearly, but we take comfort knowing she's finally having a sit-down talk with Jesus and even he will hear the "Jesus Talk". She's having a big family reunion as we speak.

She leaves her love to be remembered by: her son, Jeffery Davis and wife Alicia of Miles, Tx; a daughter, Kelly Dawn Renfro of Cisco Tx; a sister, Joan Taylor of Abilene Tx; Daughter-in-Law/Son's Mike Davis' Widow Cindy Davis; eight grandchildren; Alex Davis, Allison Arrington, Ryan Lupton, Brandon Couch, Heather Couch, Michael Watson, Stephanie Huntley and Jessica Davis; six great- grandchildren; and three great-great grandchildren, all precious to her. Jane was preceded in death by a son, Eddy Mike Davis on January 4, 2018; a grandson, Taylor Davis; eight brothers and sisters; and many dear loving friends.

Honorary pallbearer T.L. Tuffy Wrinkle.

The Family is grateful to her Doctors and Nurses in the ICU unit at Shannon Hospital, that provided her with excellent, loving care during her journey.

Public viewing will be from 1:00 PM until 8:00 PM Sunday, June 20, 2021, at Robert Massie Funeral Home. Funeral Services will be at 2:00 PM Monday, June 21, 2021, at Robert Massie Riverside Chapel, Neil Conner of Belmore Baptist Church, officiating. Internment will follow at Lawnhaven Memorial Gardens under the direction of Robert Massie Funeral Home.

Jane loved life, colors, and lots of bling! that would always brighten her days. If at all possible, please wear bright and colorful spring like colors, so if she's watching us from up above, she'll know we do this in her honor.

Memorials are appreciated and may be made to a charity of your choice.


 
To send flowers to the family or plant a tree in memory of Linda Jane Davis, please visit our floral store.
PUBLIC VIEWING
Sunday
June 20, 2021
1:00 PM to 8:00 PM
Robert Massie Funeral Home
402 Rio Concho Dr.
San Angelo, TX 76903
---
FUNERAL SERVICE
Monday
June 21, 2021
2:00 PM
Robert Massie Riverside Chapel
402 Rio Concho Dr.
San Angelo, TX 76903
Write Your Tribute