Dates

Jan 14, 1933 Jun 14, 2021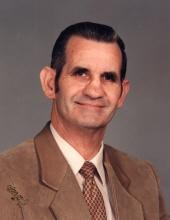 Bobby Wayne Bramhall, 88, passed from this life on June 14, 2021.  
Wayne was born January 14, 1933, in Clarksville, Texas to Joe and Maudie Bramhall.  
They moved to Texarkana, Texas where Wayne attended the Texarkana Texas School system, participating in their sports program, which led him to Abilene Christian College in 1951 joining the Wildcat Football program. In 1953, he was married to Sue Reese of Mt. Pleasant, Texas. 
After graduation from ACC in 1955, Wayne worked with the Wyatt Food Stores, later purchased by Kroger. In October 1955, he was drafted to serve in the Army during the Korean War. He spent his two-year time in Chicago, Illinois. After this tenure, he came back to Texas and worked for McKesson Robbins Drug Company, where he located in San Angelo, Texas. They immediately became members of the Johnson Street Church of Christ, where Wayne served as an elder for several years. Wayne was very active in helping to begin the support of the churches in Guatamala. 
Wayne and Sue were so blessed with wonderful children: Joe Paul Bramhall and Belle; Wrey and Brenda Sue Montgomery and Thorne and Julie Ann Campbell. And especially blessed with 6 wonderful grandchildren: Bobby Joe Bramhall of Knoxville, Tennessee, Kaci Bramhall of College Station, Texas, Reese Wayne Montgomery of San Angelo, Texas, Madalyn Campbell and Cade Campbell of San Angelo, Texas and Wyatt Campbell of Austin, Texas. 
He was proceeded in death by his parents and only brother, Billy Joe Bramhall. Other than his immediately family, he is survived by a sister-in-law, Bonnie Bramhall and her three sons of Austin, Texas. 
Memorials may be directed to Johnson Street Church of Christ Missions or Hospice of San Angelo. 
There will be a visitation on Wednesday, June 16, 2021, from 4:00-6:00 PM at Harper Funeral Home, following a private family graveside held at Lawnhaven Memorial Gardens.
Visitation
Wednesday, June 16, 2021
4:00PM - 6:00PM
Harper Funeral Home  
2606 Southland Boulevard 
San Angelo, TX 76904
Write Your Tribute